C4 orders live comedy show, signs star presenters
C4 orders live comedy show, signs star presenters
---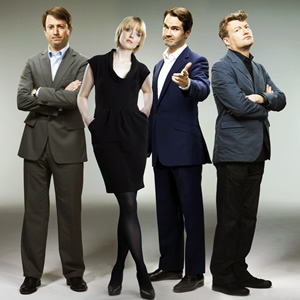 Channel 4 has ordered a new long-running topical comedy show from the team that created its hit Alternative Election Night special. The currently un-titled show is expected to be broadcast on Thursday or Friday night in a 10pm slot from October.
David Mitchell, Jimmy Carr, Charlie Brooker and Lauren Laverne have been signed to present the show - the same team that fronted the channel's four-hour special in May. Channel 4's Alternative Election Night was considered a big success for the network - with over 1.5 million viewers tuning into the comedy show. Additionally, the show rated very well with young viewers - 44% of the audience watching were between the ages of 16 to 34, an age bracket highly valuable in terms of advertising.
The new show is expected to be broadcast live - despite the fact the presenters have little previous experience of live TV, beyond their election special. Following the May 6th broadcast, Charlie Brooker admitted in his newspaper column he was so nervous about saying the wrong thing he slightly wet himself between the links he was presenting.
According to Broadcast Magazine, production company Zeppotron is currently hiring crew for the new show and also recruiting celebrities, politicians and other cultural and arts commentators to join the presenting team to add additional irreverent comment on the issues of the week.
This news follows the announcement of a bumper winter 2010 comedy line-up for Channel 4, and re-commissions for both A Comedy Roast and Stand Up For The Week.
Share this page