Gone Fishing Series 2
Bob & Paul to go fishing again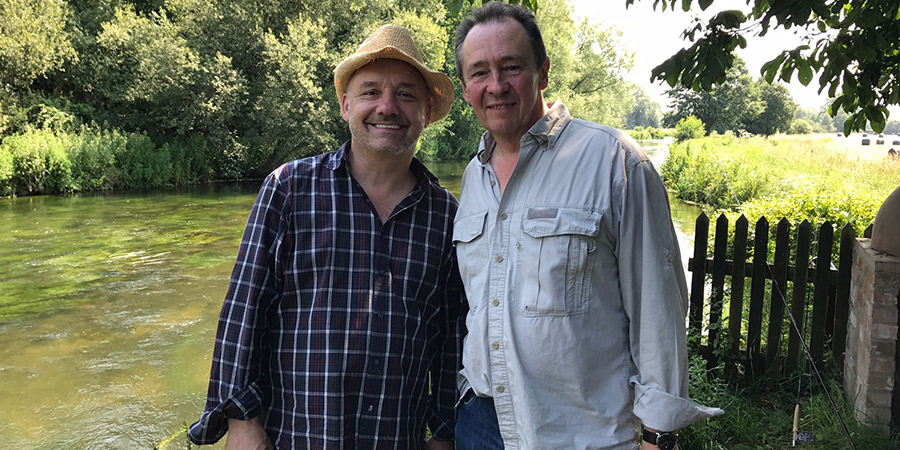 Mortimer & Whitehouse: Gone Fishing will return for a new series.
The BBC Two comic-factual series, broadcast during June and July, was a huge hit with audiences, as comedians, friends and fishing enthusiasts Bob Mortimer and Paul Whitehouse travelled across England to fish, discuss life, and compare notes of their respective experiences of serious heart disease.
Each episode saw Paul instructing relative newcomer Bob on a different aspect of angling, whilst Bob acted as cook of "heart-healthy" food and arranged each night's accommodation in the slow paced but regularly hilarious unscripted series.
Paul Whitehouse says: "The response has been a little bit overwhelming. We've had the most incredible messages from people who have suffered similar issues with their hearts or have had long-term illnesses and have found something in the series that has resonated with them. We're really pleased that people can see the joy that fishing can bring and I'm also very proud that people who wouldn't normally watch a fishing programme can enjoy the series too."
Bob adds: "I absolutely loved making the series and can't wait to depart for a new set of adventures in the beautiful countryside, with wonderful company and a fresh menu of heart healthy meals... who wouldn't sign up for that?"
The new six-part Series 2 will be filmed later this year and broadcast in 2019.
Also announced today is a second series of Romesh Ranganathan's latest travelogue, The Misadventures Of Romesh Ranganathan.
The three-episode first series was broadcast in July and has become one of iPlayer's best performing factual series since 2015. It saw the stand-up comedian "travel beyond his comfort zone to some of the most unlikely places on earth to go on holiday".
David Brindley, Head of Commissioning, Popular Factual and Factual Entertainment, says: "The Misadventures Of Romesh Ranganathan and Mortimer & Whitehouse: Gone Fishing have been real summer highlights for us and we couldn't be happier to be re-commissioning both.
"The response from critics and viewers alike has been fantastic, and often followed by 'surely there will be a second series?' - well, we're thrilled to oblige. Each of these titles was an effort by the brilliant production teams and our department to try to continue the evolution of the travel genre, and I'm pleased these efforts were met with such a warm reception. To have the likes of Romesh, Bob and Paul on such glorious form on the channel is a sheer delight. Here's to more adventures."
---
For updates, click the buttons below.
Share this page