Writer criticises censorship
Corbyn sketch writer Laurence Howarth speaks out against censorship
Writer Laurence Howarth has spoken about writing Jeremy Corbyn sketches in Tracey Breaks The News
He hit out against attempts to silence criticism of the political leader
In an in-depth interview, he discussed the wider furore around the sketches and writing satire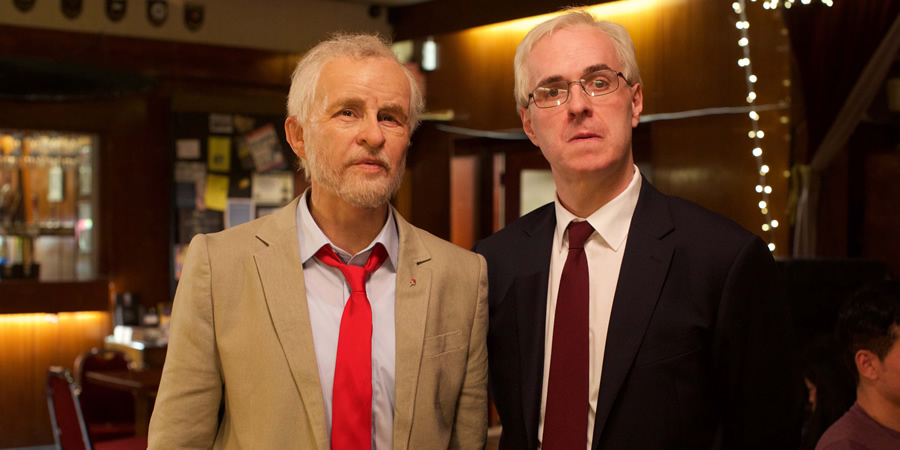 A top writer has hit out against Jeremy Corbyn supporters attempting to shut down criticism of the Labour leader in comedy sketches.
Laurence Howarth, whose sketches starring Tracey Ullman provoked fury from some of Corbyn's supporters on social media, admits he was taken aback by the response, which included a constant stream of attacks against the show's producer Caroline Norris.
A writer and actor, Howarth also co-stars in the sketches as Shadow Chancellor John McDonnell (pictured above).
There was initial confusion when a Corbyn supporter on Twitter implied that one particular sketch was written by David Baddiel, leading to attacks on the Jewish comedian from a number of other Corbyn supporters, including politician George Galloway.
"The person who tweeted about David Baddiel didn't really think through his argument," said Laurence, talking to James Cary and Dave Cohen in the latest Sitcom Geeks podcast. "He was clearly saying 'This sketch about how the left have a problem about anti-Semitism is so wrong it could have been written by a Jew.' At which point the irony-meter exploded."
Laurence isn't a Twitter user so wasn't aware of the row until 48 hours after the episode had aired. He says: "Caroline had a pretty unpleasant time for a few days. It was relentless, also you don't know who these people are. If someone keeps tweeting you hour after hour, like they're saying 'I know where you are' it's incredibly sinister.
"It took us a while to work out how to respond. I thought I should get the credit, it's not often that a comedy writer gets recognition - and I was very proud of the sketch. But the fact I wrote it was completely immaterial.
"I've been [writing satire] for nearly 20 years, but imagine if I'd been a new writer just starting out. It could have been quite traumatic.
"I watched the sketch back and knew I could justify every line. I had thought something might happen with this sketch, even though I was taken aback by how much, which is why I researched it before writing and we went through it very carefully. If anything it's closer to the edge on Gerry Adams than Jeremy Corbyn."
Eventually, Laurence agreed to be identified as the writer here, by British Comedy Guide. "It meant people in the industry knew it was me, but it didn't push me into the limelight. I didn't want to get into an argument with these people on Twitter because I thought it would be a waste of time."
The sketch was criticised as being BBC propaganda, "which is ridiculous. There are sketches in the show about the Tories, the SNP, the Lib Dems... It's relatively new in my career for the BBC to be attacked from the left. People who support Corbyn do so with extraordinary zeal, they feel he is the most important thing to happen in the last 100 years."
Howarth has not been deterred by the experience.
He explained: "The way some people have expressed this has been completely out of order. But overall I'm glad to have been reminded that people care. It's clear what is happening at the moment is important.
"People assume I hate Corbyn. Truth is like many people I have mixed feelings. What I'm proud of with that sketch is it's about a man having had a life. Corbyn's a complex guy and I'm glad to put that across and show up the ridiculous thing of you're either for him or against him."
The full interview - in which he also talks about his other work, including writing for Dead Ringers - can be heard in Episode 82, of the Sitcom Geeks podcast
---
For updates, click the button below.
Share this page