No Inbetweeners Series 4
Inbetweeners Series 4 rumours are false
Contrary to reports, there is no fourth series of The Inbetweeners in production
Star James Buckley sparked speculation with a photograph posted on social media
Series co-creator and writer Iain Morris confirmed to us that there are no plans to revive the sitcom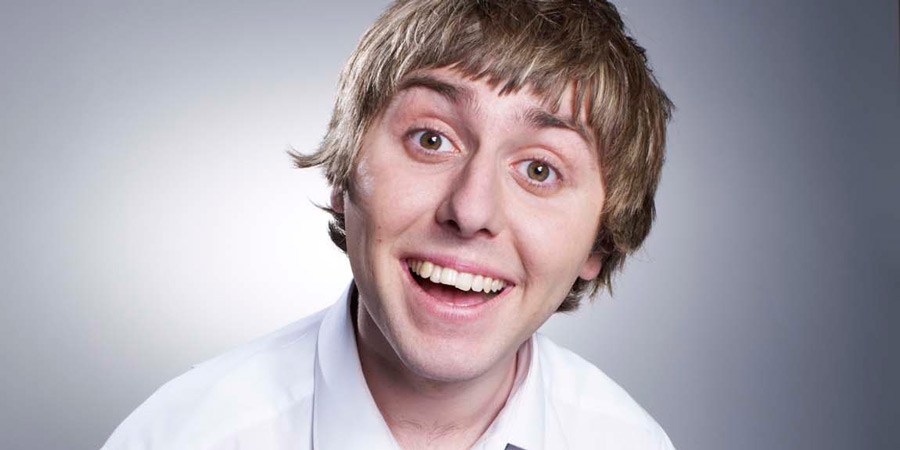 Rumours of a fourth series of The Inbetweeners have been circulating across social media this evening.
Fans' hopes for a revival of the sitcom were raised when James Buckley, who starred in the series as Jay (pictured), tweeted a photo of the four leads at dinner with creator-writer duo Iain Morris and Damon Beesley this evening.
Also posting the snap to his Instagram account, he added the caption "Inbetweeners series 4 pre production meal".
However, British Comedy Guide can confirm that there are no plans for a fourth series of the E4 comedy hit, which spawned two hugely successful feature films.
Co-writer Iain Morris confirmed to us: "No. Buckley is joking. Though I'm just remembering that it's hard to get across this sort of thing on Twitter and feel bad."
Of the fan reaction, he said: "It's unreal. Lovely," and added: "Typical Buckley."
At the time of writing, Buckley's missive has been retweeted almost 11,000 times and liked more than 32,000 times. Whilst some fans responded with disdain at the thought of the comedy being revived after such a long absence - the last series having been broadcast in 2010 - others were delighted at the prospect of more comic antics from Will, Simon, Jay and Neil, who would by now presumably be nearing 30 years old.
The group were more likely meeting to mark 10 years since the first broadcast of the comedy series, the anniversary of which fell earlier this week.
The very first episode received its premiere broadcast on Thursday 1st May 2008, at 10pm on E4. British Comedy Guide published an article marking the anniversary of the comedy hit. Read
In reality James Buckley is about to begin filming a third series of Dave fantasy sitcom Zapped, whilst he and Simon Thomas have also been making a second series of comedy White Gold with Inbetweeners co-writer Damon Beesley. Production has been on hold since late 2017 following sexual assault allegations made against one of their co-stars in the BBC Two sitcom.
Meanwhile, Friday saw the debut of Series 5 of Channel 4's Friday Night Dinner, which stars Simon Bird, and Morris has recently directed Thomas in new feature film The Festival, which is due in cinemas in August. Harrison recently directed his first film, Hooves of Clay.
Here is Buckley's tweet from this evening:
Inbetweeners series 4 pre production meal pic.twitter.com/qGtA8mSFL4-- James Buckley (@James_Buckley) May 6, 2018
---
For updates, click the button below.
Everything from S1 through to S3 and the Movies 1 & 2.
The Inbetweeners follows the often misguided footsteps of four friends, Will, Simon, Neil and Jay, as they try to navigate their way through sixth form and beyond, with their hormones running riot.
None of our heroes are exceptional, all are distinctly average: Will is constantly trying to raise their social standing, Simon is a hopeless romantic who is obsessed with schoolmate Carli, Neil is sometimes so slow it s more like owning a pet than having a friend, and Jay is a borderline sex pest constantly bragging about imaginary sexual experiences.
Relive your misguided youth with their hilarious and sometimes, just plain, uncomfortable antics as they grow from boys, well, to even bigger boys.
First released: Monday 26th October 2015
Distributor: 4DVD
Region: 2
Discs: 5
Catalogue: C4SP017
Buy and sell old and new items
Search for this product on eBay
It looks like you're in the US? Fear not! Almost everything can still be ordered.
Amazon UK
deliver internationally,
Amazon.com
carries many items separately, or you can look out for US/Canadian flags on our product listings for direct links.
If ordering from a UK store, please note that you are in Region 1 (DVD)/Region A (Blu-ray), whilst the UK is in Region 2/B, respectively. This means that many - but by no means all - may fail to play. Look for products marked "Region free", "All regions", "Region 0" or "Multi-region". Blu-rays may also be marked "Region A/B/C", or variations thereof. You may also check whether your DVD/Blu-ray player supports multi-region playback (also referred to as "region free"), or whether it can be set to do so. There should, of course, be no problems with books, CDs, or other physical items.
More advice & help on importing
Share this page