Red Dwarf Series 13
Red Dwarf Series 13 confirmed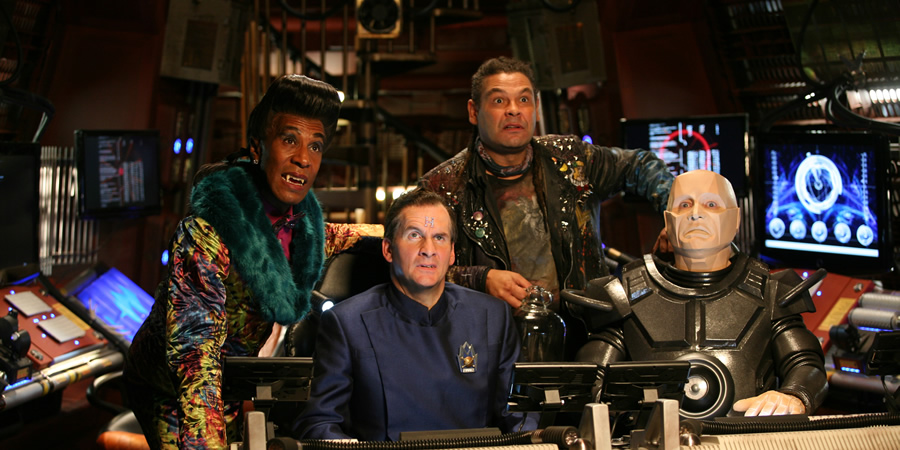 Red Dwarf is to return for a thirteenth series, the cast has confirmed.
Robert Llewellyn, who plays Kryten, and Danny John-Jules, who plays Cat, confirmed the news whilst speaking at the inaugural Thames Con convention in Oxfordshire today.
A new series has been discussed for some time, with writer and director Doug Naylor saying in an interview last year: "I've jotted down lots of ideas - I had so many ideas and we weren't able to do a lot of them because we were making 12 and not more." However, this is the first time it has been confirmed that production will commence.
UKTV channel Dave, which has broadcast the comedy since it returned in 2009, has yet to officially confirm another series, however discussing the hit sitcom at length during a special panel session at new fan convention Thames Con, the stars revealed that Baby Cow Productions are to film Red Dwarf XIII early in 2019.
Series 13 is likely to be broadcast towards the end of 2019 on Dave, which has been the home channel of the cult sci-fi comedy since it was revived in 2009 after 10 years off screen.
Referring to the sitcom's longevity, John-Jules quipped: "[Any of show's cast] would be like 'no we can't do thirteen series'; Red Dwarf guys would be like '13? Listen, let's start filming on Friday 13th!'"
Red Dwarf first launched on BBC Two in 1988. Earlier this year, Series 12 was voted the Best Returning TV Sitcom of 2017 by visitors to this website in the annual Comedy.co.uk Awards.
Little else is known about the new episodes at present, although all four starring cast members - Llewellyn, John-Jules, Chris Barrie and Craig Charles - will reprise their roles.
The previous two series, eleven and twelve, were commissioned and filmed at the same time but it seems Series 13 will be made on its own with no fourteenth outing planned at the same time.
This may be related to the proposed Red Dwarf live stage show that writer Doug Naylor has been developing, and in which it is believed the stars may tour.
Speaking to The Express last year, Naylor said: "When I say a tour, I mean do a live show at the O2, so we need to get a schedule that works for the O2 and certainly for Red Dwarf XIII. Probably if we did a Red Dwarf XIII and XIV [at the same time], it would make the O2 live show more difficult. So we'll probably do Red Dwarf XIII, live show and come back and probably do XIV after that."
During the hour-long Thames Con session, the duo also paid tribute to the writing of Doug Naylor, and of original series co-writer Rob Grant. Naylor co-created Red Dwarf with Rob Grant, however Grant moved on to work on different projects after Series 6. Grant's next show is the Radio 4 sci-fi comedy The Quanderhorn Xperimentations.
Meanwhile Naylor told said last year that he too is working on another project, "a science fiction thing, contemporary, two one hours". He explained: "I thought I'd finished about four months ago and because I've got so many things on, I thought what I needed was a couple of days just tweaking it [...] but it will still need tweaking."
More details about the new series of Red Dwarf and the potential live stage show are expected in due course.
---
For updates, click the button below.
Share this page