The Wrong Mans USA
The Wrong Mans to be re-made in America
2013 BBC Two comedy thriller The Wrong Mans is to be remade for American audiences
Parks & Recreation star Ben Schwartz will appear in the pilot episode for the Showtime network
Original creators and stars James Corden and Mathew Baynton are helping to adapt the scripts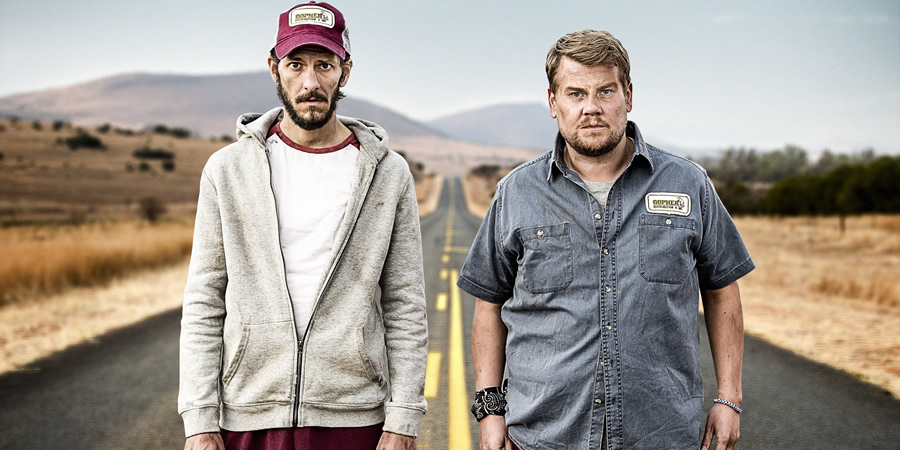 A remake of The Wrong Mans, the 2013 BBC comedy thriller, is to be piloted by US TV network Showtime.
Created by and starring James Corden and Mathew Baynton, the UK version of The Wrong Mans centred on Sam Pinkett and Phil Bourne, office workers for Berkshire County Council, who had their menial existence turned upside-down by a chance phone call and a case of mistaken identity.
After being sole witness to a car crash on a desolate country road, Sam (Baynton) answers an abandoned mobile telephone and hears a message that was clearly not meant for him: "If you are not here by 5 o'clock, we will kill your wife". Encouraged by office mailroom delivery boy Phil (Corden) that they can be the heroes of the hour, the duo soon find themselves plunged into a deadly kidnap situation.
The six-part series proved popular when it was broadcast on BBC Two in the Autumn of 2013, sparking two additional hour-long episodes, set in Texas, to be made for the Christmas 2014 schedules.
The new half-hour USA pilot is set to star Ben Schwartz, the actor perhaps best known for playing Jean-Ralphio Saperstein on the sitcom Parks & Recreation.
The new script has been written by the original creators alongside Veep's Ian Maxtone-Graham, with Baynton and Corden also listed as Executive Producers on the project. The pilot will be produced by Warner Bros, J.J. Abrams production company Bad Robot, and Fulwell 73, the company which also makes The Late Late Show With James Corden . Jim Field Smith, who directed the original show and went on to make Stag, another BBC Two comedy thriller, will also oversee the Showtime shoot.
The Wrong Mans pilot will compete with other trial episodes in the forthcoming US pilot season, of which some of the shows will be given the greenlight to become a series.
Below is the original BBC trailer:
---
For updates, click the button below.
Share this page