Shakespeare & Hathaway again
Shakespeare & Hathaway gets a second series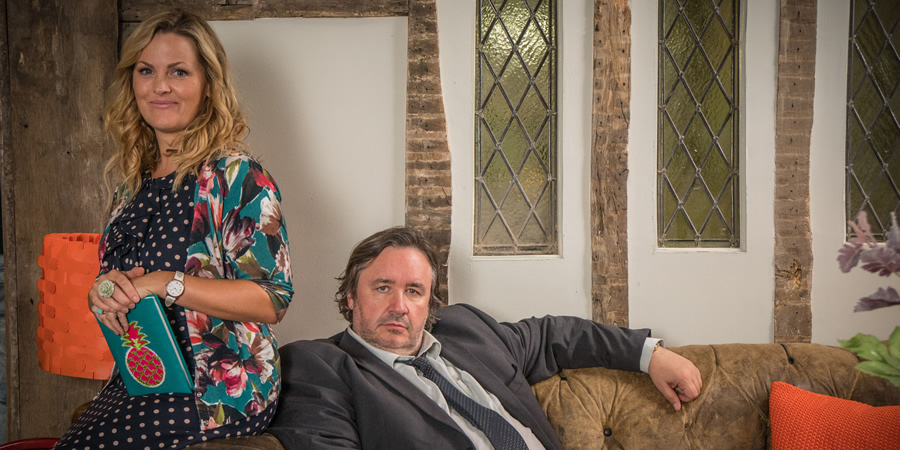 BBC One has ordered a second series of its new comedy drama Shakespeare & Hathaway - Private Investigators.
A 10-part Series 1 was broadcast daily over two weeks last month, seeing former policeman Frank Hathaway (Mark Benton) team up with the hard-headed Lu Shakespeare (Jo Joyner) to save his fledgling private detective agency.
The BBC today described the series as "the most watched Daytime series on catch up (+0.4m) to date", adding that Series 1 "has had a huge volume of traffic on iPlayer with over 2m requests so far. In the programme's first week it was in the top 10 of all BBC content on iPlayer."
The recommission "follows a hugely successful launch series which generated exceptional audience feedback and was met with widespread critical acclaim".
Produced by BBC Studios in Birmingham, the series averaged 2.11m viewers on television, representing a 26.4% audience share (against an average viewership of 1.0m/16% at this time on BBC One), making it the biggest drama launch for the channel's weekday schedules since Father Brown in 2013.
Series 2 is set to begin filming in September on location in Stratford-upon-Avon.
Dan McGolpin, BBC Controller of Programming and Daytime, says: "This new series has amused and delighted so many viewers with its inspired story-telling, intriguing characters and knowing comedy - all set in Shakespeare country. I'm very pleased to confirm that it will return to both BBC One Daytime and iPlayer early next year."
Will Trotter, Head of Daytime Drama at BBC Studios says: "Series 2 will see Frank and Lu investigating kidnapped canines, locked room mysteries, dead ringers and doppelgängers, vice, fraud, extortion and identity theft. Our detectives will continue were they left putting the world to rights as they snoop and pry. More ado in Stratford-Upon-Avon."
Jo Joyner adds: "I'm totally thrilled to have the chance to visit Lu, Frank and Sebastian again in the beautiful surroundings of the Warwickshire countryside. We were really blown away by the support the first series garnered and we can't wait to see what they get up to next!"
Mark Benton says: "I'm so thrilled to be making the show again. The reaction was phenomenal and hopefully series two will be even better. Can't wait."
All 10 episodes of Series 1 are currently available on iPlayer, and a DVD release of the series is planned for later this month.
---
For updates, click the button below.
Private inspector Frank Hathaway has always worked alone. Only Frank isn't doing so well. He might have a brilliant instinct when it comes to solving crime, but he's also out of shape and low on cash. Frank needs a partner. Frank needs ex-hairdresser and people-person Lu. He just doesn't know it yet. Frank and Lu eventually join forces and form a highly unlikely and hugely entertaining detecting duo. They quickly discover all is not as peaceful as it seems in this pretty theatre town. Vengeful lovers stalk the streets, the mayor is murdered and a magician's trick fatally misfires.
First released: Monday 23rd April 2018
Distributor: Dazzler
Region: 2
Discs: 3
Minutes: 600
Subtitles: English
Buy and sell old and new items
Search for this product on eBay
Released: Monday 4th March 2019
Distributor: Dazzler
Region: B
Discs: 3
Minutes: 500
Buy and sell old and new items
Search for this product on eBay
It looks like you're in the US? Fear not! Almost everything can still be ordered.
Amazon UK
deliver internationally,
Amazon.com
carries many items separately, or you can look out for US/Canadian flags on our product listings for direct links.
If ordering from a UK store, please note that you are in Region 1 (DVD)/Region A (Blu-ray), whilst the UK is in Region 2/B, respectively. This means that many - but by no means all - may fail to play. Look for products marked "Region free", "All regions", "Region 0" or "Multi-region". Blu-rays may also be marked "Region A/B/C", or variations thereof. You may also check whether your DVD/Blu-ray player supports multi-region playback (also referred to as "region free"), or whether it can be set to do so. There should, of course, be no problems with books, CDs, or other physical items.
More advice & help on importing
Share this page