BBC orders more of OFAH prequel Rock & Chips
BBC orders more of OFAH prequel Rock & Chips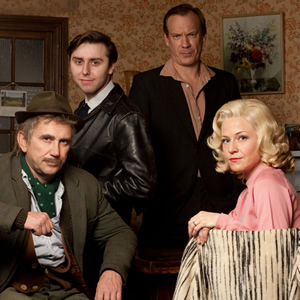 It has been revealed that, following the success of the one-off special earlier in the year, John Sullivan is now writing more episodes of Only Fools and Horses prequel Rock & Chips.
Set in the 1960s, Rock & Chips tells the back story of the Trotter family, and features younger versions of other popular characters from the classic BBC sitcom too.
The 90 minute comedy drama, first shown in January, explained to fans how criminal Freddie 'The Frog' Robdal was actually the real father of Rodney Trotter.
The programme - which starred Nicholas Lyndhurst, Kellie Bright and James Buckley - was met with positive reviews from the press and was a big hit for the BBC, with over 7 million viewers tuning in to watch the drama.
As a result, it comes as little surprise to hear Sullivan is currently writing more episodes of Rock & Chips.
James Buckley, star of The Inbetweeners, will again take on the role of Del Boy in this forthcoming episodes. He told The Sun that Sullivan had recently told him about the series: "I got a text from him and he said he was in the middle of writing six hour-long episodes."
The new episodes are expected to broadcast on the BBC One towards the end of the year, or in early 2011.
Update: the BBC ordered two 60-minute specials, one for Christmas 2010 and one for 2011.
Share this page