The Windsors wedding special
Channel 4 orders The Windsors wedding special
The Windsors is to return to Channel 4 to mark the Royal Wedding
A new one-off special will see Prince Harry and Meghan Markle finally marry
All of the cast will return for the episode, to be broadcast in mid-May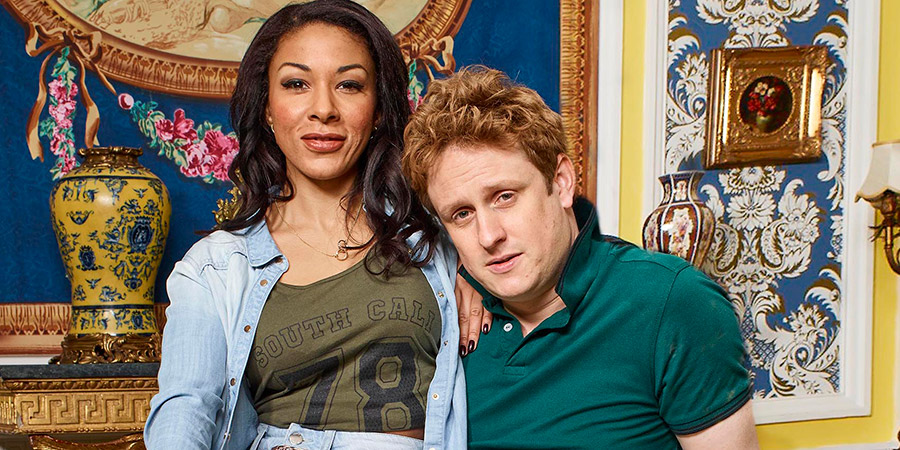 Sitcom The Windsors is to return to Channel 4 for a new special episode.
Re-imagining the lives of the Royal Family as if characters in a television soap opera, the sitcom will be back on screens in May.
The new one-off special will follow the Royal wedding of Prince Harry to American actor Meghan Markle. The real wedding will take place in Windsor on Saturday 19th May, with the new episode likely to broadcast on or about the same date.
Channel 4 quip: "Clarence House has today confirmed that The Windsors have once again agreed to open the palace doors, and pull back the curtain, for a candid, behind-the-scenes documentary series revealing the preparations for the biggest wedding of the year..."
Pictured above, Kathryn Drysdale will return to reprise her previous guest role of Meghan, with Richard Goulding playing Harry and the rest of the regular cast also set to feature. The sitcom has so far run for two series and one Christmas special, all of which are available on DVD.
Channel 4 say: "This one-off special will see our Harry excited about his impending marriage to Meghan. Our party prince is getting ready to organise the best stag party ever while the blushing bride has other ideas about what makes a great bachelor party. Harry and Meghan decide to take Charles (Harry Enfield) to America to meet Doria - Meghan's down-to-earth all-American mum. She doesn't have enough spare rooms for his staff, which makes life very difficult for Charles... and her.
"Back in London, Wills (Hugh Skinner) and Kate (Louise Ford) are struggling to cope with the arrival of their latest child. Elsewhere, Eugenie (Celeste Dring) is engaged to be married, leaving Beatrice (Ellie White) feeling lonely and worried about not having a plus one for the wedding, when a hunky political firebrand comes along to sweep her off her feet.
"Meanwhile, Aunty Anne (Vicki Pepperdine) is on hand to help with Eugenie's wedding planning and, unsure whether she's going to get an invite to Harry and Meghan's special day or not, our Fergie (Katy Wix) needs to find a way to get into the reception. And that's not forgetting scheming Pippa (Morgana Robinson), who is determined not to let this big day go without a bit of a hitch..."
Fiona McDermott, Head of Comedy at Channel 4 commented: "I am thrilled to have The Windsors back on Channel 4 for a royal wedding special and can't wait to see what Meghan's dress looks like, if Fergie is invited and most importantly what fascinators Beatrice and Eugenie will be wearing!"
Executive producers for production company Noho Film and TV, Robert Wulff-Cochrane and Camilla Campbell, say: "We're delighted to be able to show what really goes on behind-the-scenes on Harry and Meghan's big day, with the same trials and tribulations of any wedding as two disparate families come together, except this one also has a gold carriage and some state-funded security."
Writers Bert Tyler-Moore and George Jeffrie add: "Introducing a new character to a show is always tricky but then we read a couple of Meghan's interviews and realised, 'blimey this woman's an absolute gift'."
---
For updates, click the button below.
Outrageous comedy series re-imagining the Royal Family as the characters of a TV soap.
The Windsors are divided: Prince Charles (Harry Enfield) wants his son Wills (Hugh Skinner) to show a more regal detachment but Wills wants to fly the air ambulance and mingle with the people. Kate (Louise Ford) is trying to find acceptance in the Royal Family, and Camilla (Haydn Gwynne), alarmed at Wills and Kate's popularity, is plotting to destroy them.
Meanwhile, Harry (Richard Goulding) is chasing Pippa Middleton's (Morgana Robinson) famous behind, Prince Edward's (Matthew Cottle) fallen on hard times, Fergie (Katy Wix) is partying like it's 1982 and Beatrice (Ellie White) and Eugenie (Celeste Dring), strapped for cash, decide to launch themselves online as make-up vloggers.
Contains the complete first and second series of the sitcom, plus the 2016 Christmas special.
First released: Monday 28th August 2017
Distributor: Acorn Media
Region: 2
Discs: 2
Minutes: 336
Subtitles: English
Buy and sell old and new items
Search for this product on eBay
It looks like you're in the US? Fear not! Almost everything can still be ordered.
Amazon UK
deliver internationally,
Amazon.com
carries many items separately, or you can look out for US/Canadian flags on our product listings for direct links.
If ordering from a UK store, please note that you are in Region 1 (DVD)/Region A (Blu-ray), whilst the UK is in Region 2/B, respectively. This means that many - but by no means all - may fail to play. Look for products marked "Region free", "All regions", "Region 0" or "Multi-region". Blu-rays may also be marked "Region A/B/C", or variations thereof. You may also check whether your DVD/Blu-ray player supports multi-region playback (also referred to as "region free"), or whether it can be set to do so. There should, of course, be no problems with books, CDs, or other physical items.
More advice & help on importing
Share this page