Ready Or Not on BBC1
Comedians star in BBC comedy quiz show Ready Or Not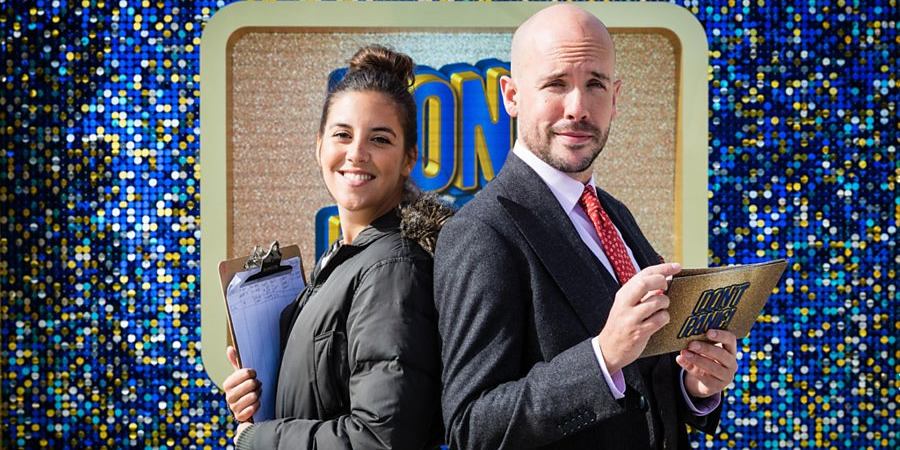 BBC One is launching Ready Or Not, a new Saturday night comedy entertainment game show in which comedians surprise unsuspecting members of the public.
The BBC, which describes the format as a "hilarious twist to the traditional gameshow", announced the show as follows: "From the supermarket to the seaside, Blackpool Tower to Birmingham City Centre, BBC One and Remedy Productions bring you brand new comedy entertainment show, Ready Or Not. Wherever you are, whatever you're doing, our crack team of quiz show hosts won't be far away, ready to surprise you with their crazy games."
Those set to pounce on the public include London Hughes, Matthew Crosby, Matt Ralph and Tom Allen.
The BBC explains: "The Ready Or Not hosts will surprise unsuspecting members of the public - absolutely anywhere. Whether that means popping up through the middle of a table in a crowded restaurant to quiz unsuspecting diners, challenging a rider at the top of London's Orbit slide to give a list of answers before they hit the bottom; turning a shopping centre lift into a glamorous mini game show set; or making visitors to an art gallery complete ridiculous challenges through their audio headset. There's even Crumpet, the talking dog, ready to strike up a conversation with startled shoppers before hitting them with a series of tricky questions."
In every game contestants can win cash or a selection of prizes. And at the end of the show, one lucky contestant will play in the big money game for the top prize of £1000.
Paddy McGuinness, who provides the voiceover, says: "This is like no other show I've worked on before. It's fun, it's mad and its definitely going to get people at home wishing they were part of it"
Crumpet the dog adds: "Finally, someone at BBC One has thrown me a bone and now I have a lead role on primetime TV. I just hope the press don't hound me."
Ready Or Not launches on BBC One in late March.
The BBC has released the following additional information about the setups...
Crumpet the Talking Dog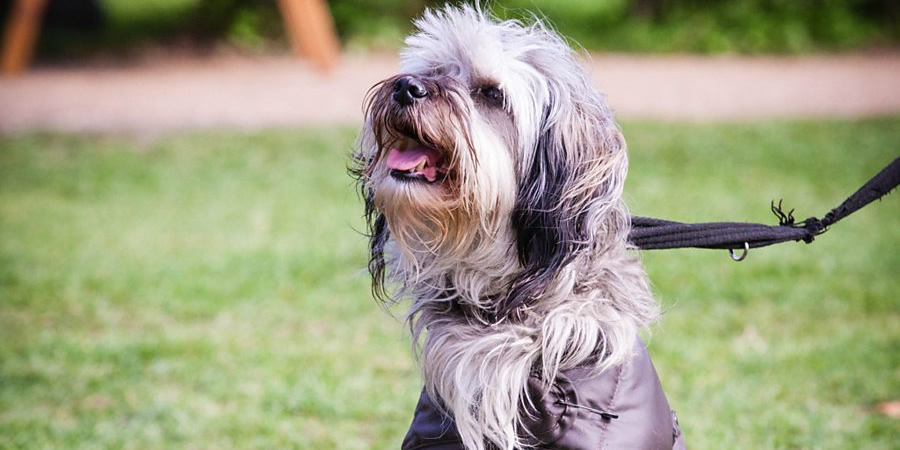 One moment you're out shopping and someone asks you to look after their dog whilst they pop into a shop. The next thing you know the dog's talking to you! Can our contestants keep a straight face, suspend their disbelief and get their brain into gear to answer a series of questions posed by our amazing canine host?
Question Mark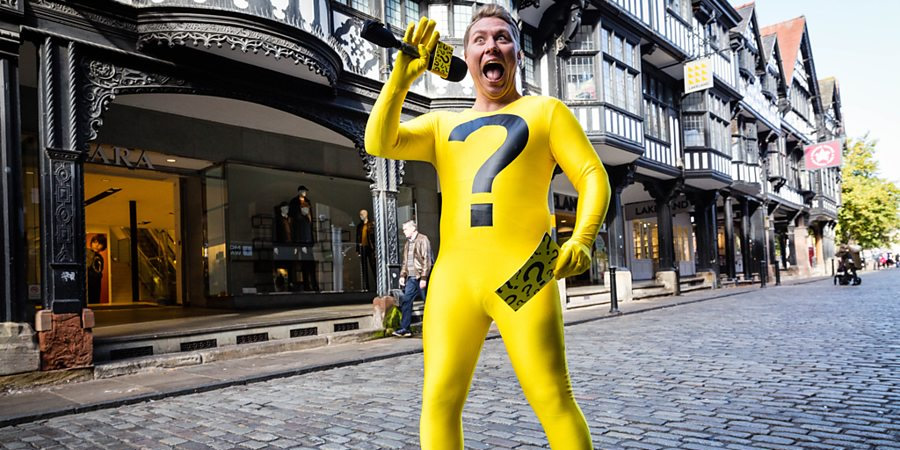 Actor and comedian Matt Ralph brings us over-enthusiastic, lycra-clad, yellow ball of madness Question Mark - who's running around the country trying to hand out as many tenners as possible! He's fast, he's daft and he's giving away cash! Armed with hundreds of questions, Mark traverses the cities, towns and villages of the UK, approaching anyone he meets.
The Lift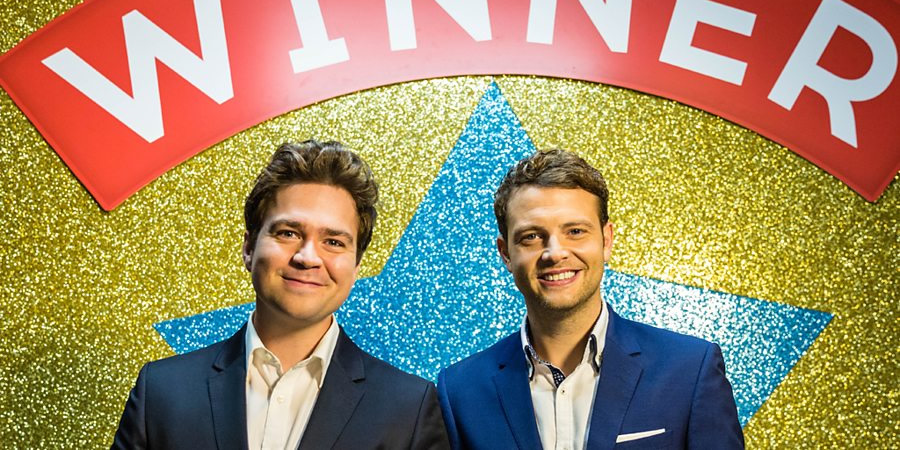 Presenters Sam Nixon and Mark Rhodes have transformed a boring old lift into a gameshow studio as startled shoppers can experience the glamour of becoming a TV contestant. Complete with a glitzy back drop, a camera crew, and the friendly familiar faces of Sam and Mark, shoppers have to answer a set of questions correctly, pick a floor and hope that the hidden star prize is waiting for them behind the doors.
Extreme Quizzing
London Hughes ambushes innocent passers-by as they enjoy a sedate day out in London. Before they know it they're hurtling down London's Orbit slide trying to answer questions for cash. London asks one simple question with multiple correct answers but the real question is; can the contestants give any answers amongst their screams?
Surprisey Man
Matthew Crosby turns everyday life into a gameshow - and gives members of the public the shock of their lives - as he pops up unexpectedly in some very random places. It doesn't matter where you are; Matthew will spring out of anything - a restaurant table, a water feature in a garden centre, under some bananas in a market stall - and bring contestants a quick-fire quiz that could see them winning some cold hard cash.
Quiz-Me-Quick
TV presenter Laura Jackson brings us a mini quiz tournament out on the road! Playing the role of 'Quiztina' she brings this delightful new gameshow around the beach resorts of the nation and she's got a series of hilarious games to play with anyone she can persuade to join her at her Quiz-Me-Quick Stand. Only those contestants who can complete each of her mad games can progress to the next round. Starting off with a dozen participants, only one or two will make it to the end and be in with a chance of winning the grand prize.
The Gallery Headset
You might think a day at the art gallery would be a nice and relaxing bit of culture, but radio presenter Pete Donaldson has taken over the audio tour - and surprises visitors with a ridiculous secret quiz. When the headset you're wearing goes from polite historian to primetime gameshow host, would you do the increasingly embarrassing things he asks to win some cash?
Don't Panic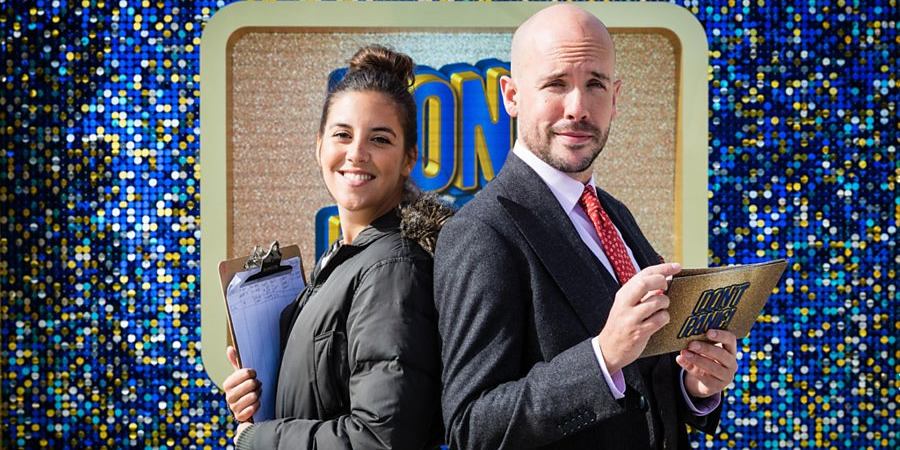 Members of the public are lured in to partake in some market research as our actors approach them in busy town centres. Little do they know, when their backs are turned, comedian Tom Allen, is setting up his gameshow [alongside Camille Ucan] - complete with full set and video screen - behind them. When they turn around they're in for a shock - can they keep their cool and handle the quickfire questions in a bid to win a whopping £1000?
Share this page