The Horne Section TV show
The Horne Section to film TV special
Musical comedy group The Horne Section are to film a TV special for channel Dave
Alex Horne says: "We're pretty excited to see how Twitter will cope with jazz and jokes for two hours"
The two hour special will be recorded at The London Palladium later this year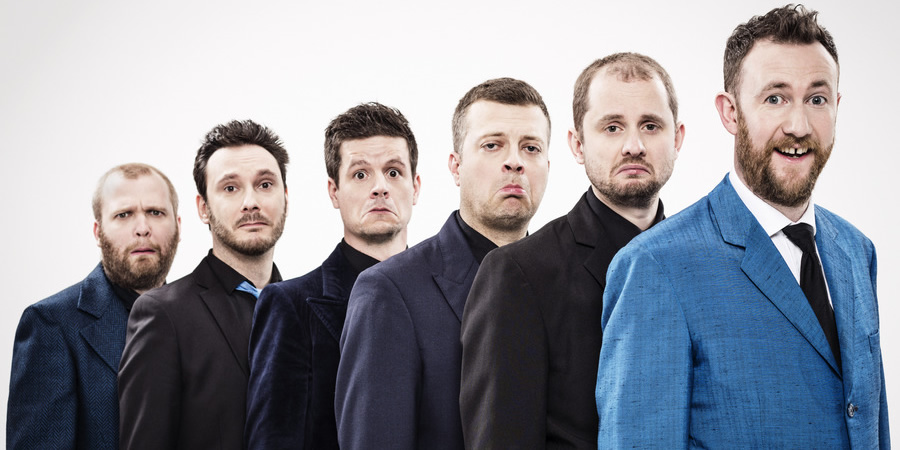 The Horne Section, the musical comedy group lead by Taskmaster star Alex Horne, are to record a TV special for channel Dave.
UKTV says: "The two-hour special will feature The Horne Section's spontaneous and free-wheeling combination of live music and comedy.
"The show, which will be recorded live at the London Palladium for broadcast later this year, will be filled with The Horne Section's distinct brand of fun, outlandish musical talent and several stupid but catchy songs. The unlikely jazz/comedy hybrid will also feature guest performances from some of the biggest names in comedy and music, with the latter also treated to unlikely band leader Alex Horne's inimitable interview style."
The Horne Section is comprised of Alex Horne, Joe Auckland (trumpet and banjo), Mark Brown (saxophone), Will Collier (bass), Ben Reynolds (drums and percussion) and Ed Sheldrake (keyboards).
The group, who have performed live shows around the country for a number of years, have also previously presented three series of their own Radio 4 show and hosted an episode of Never Mind The Buzzcocks. The group also make regular appearances in Dictionary Corner on 8 Out of 10 Cats Does Countdown.
Alex Horne, who has also signed up to film another four series of Taskmaster for Dave, says: "I'm pretty sure no-one's ever tried combining music with comedy before, let alone filming the whole thing and putting it on TV, so we're pretty excited to see how Twitter will cope with jazz and jokes for two hours. Good luck everyone!"
Richard Watsham, director of commissioning at UKTV, says: "Alex Horne's unique and popular sense of humour has already turned Taskmaster into an award-winning hit for us, so giving him two hours on Dave and putting the London Palladium at his disposal was an easy decision. I can't wait to see The Horne Section's imaginations run wild."
Hilary Rosen, deputy director of commissioning at UKTV, adds: "I am delighted to be working with Alex Horne on another project. He is a mastermind when it comes to originating fresh comedy ideas and this special will not disappoint."
Luke Hales, channel director for Dave, comments: "The Horne Section special is a great fit for Dave, what with Alex Horne's involvement and the brilliant combination of music and comedy. It's certainly going to be entertaining two hours!"
The special will be filmed by Avalon, the production company that also makes Taskmaster. Aside from the UK version continuing, the hit challenge show format is currently being re-made in a number of other countries, with it being announced today that Spain is the latest country to get its own version.
Talking about The Horne Section, Executive Producer James Taylor says: "We're delighted to be continuing our award-winning relationship with UKTV to make another show the world has been crying out for. It's time to make music stupid again."
The Horne Section will be recorded on Wednesday 18th April (Free tickets), for broadcast on Dave later in the year.
---
To get updates on the show, including a reminder when it's due to be broadcast, press the button below...
Share this page