Romesh Ranganathan on ALOTO
Romesh Ranganathan replaces Jack Whitehall on A League Of Their Own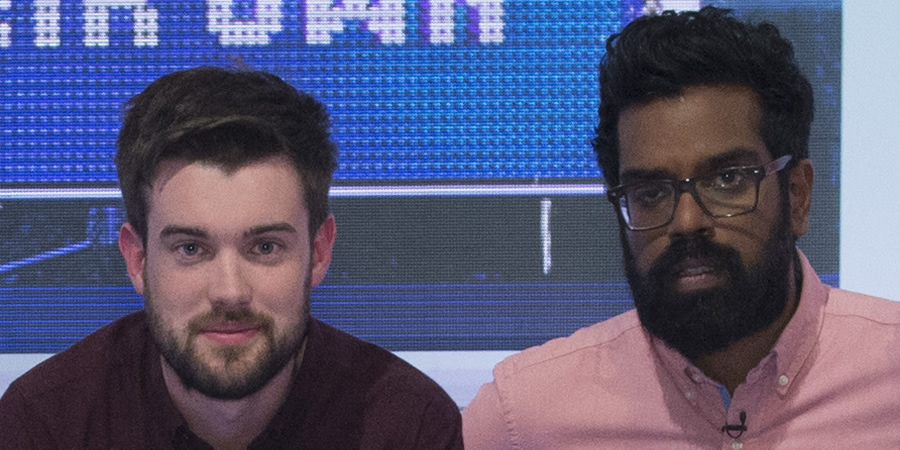 Jack Whitehall is leaving Sky's sports-based panels show A League Of Their Own.
The comedian has acted as a regular on the show for eight series, but is now moving on to pursue other projects. Speaking in an interview with The Sun he said: "I'm leaving because my schedule is very busy. I love doing it but I can't do it ­for ever and I want to explore new opportunities - I would like to do more in America."
Explaining how he broke the news to Jamie Redknapp, Freddie Flintoff and James Corden, Whitehall told the newspaper: "It was very sad ­sitting down Jamie and ­Freddie and telling James on the phone. Jamie wept. I'm the bastard breaking up the friends. But I think they still like me. I think we're all still pals, it will probably help going forward with our friendship as we won't see each other all the time."
Whitehall concluded: "I've been filming a load of other things and have new opportunities coming up and I just felt like it was the right time to leave. I'm going to miss it I'm sure. Come the summer I might have to pay someone to come round and put me in a spandex bodysuit and hang me in a harness and throw some balls at me just to make it feel like I'm still doing the show."
James Corden, Freddie Flintoff and Jamie Redknapp will continue to appear, with Series 13 set to be filmed later this year.
Whitehall is set to be replaced by Romesh Ranganathan. The show's new signing says: "I'd like to say I'm saddened by Jack leaving but it has essentially meant that I can become part of the show so I'm actually pretty delighted. I'm looking forward to joining James, Freddie and Jamie and finally adding some eye candy to the show."
Ranganathan has appeared as a guest several times on ALOTO, so is no stranger to the format.
Adam MacDonald from Sky says: "We're delighted be welcoming one of the most exciting and fresh comedians around in Romesh Ranganathan to A League Of Their Own this year. I know James and the rest of the boys, as well as fans of the show, will enjoy his sharp wit and cracking punchlines."
Ranganathan is building up a relationship with Sky. The network is also set to broadcast The Reluctant Landlord, a sitcom in which he stars; and the stand-up has recorded Romesh's Look Back To The Future for Sky One, a one-off panel show episode involving holograms.
Series 13 of A League Of Their Own will be shown on Sky One later this year.
---
For updates, click the button below.
Share this page