Upstart Crow Series 3 guests
Upstart Crow Series 3 guest stars announced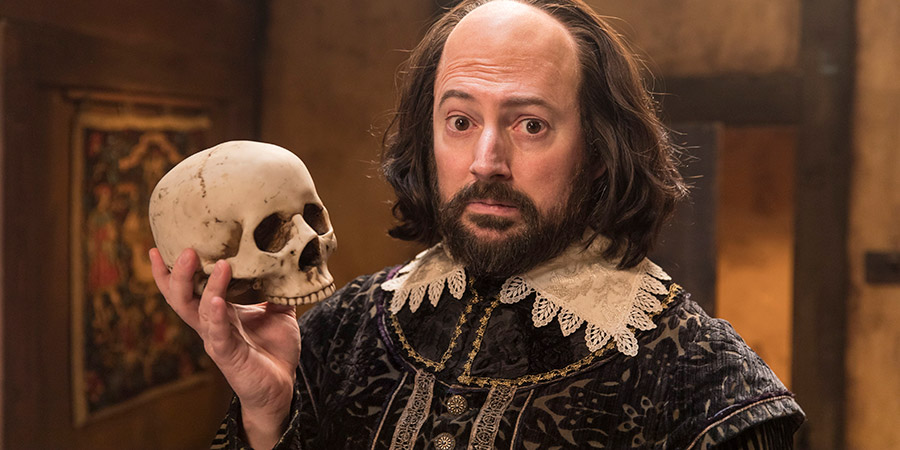 Upstart Crow guest stars have been announced for the sitcom's third series and Christmas special, for which production has begun this week.
The Ben Elton-penned period sitcom about the life of struggling Elizabethan playwright William Shakespeare is filming seven new episodes in total.
Notably, Series 3 sees Elton reunited with fellow Young Ones alumni, Adrian Edmondson and Nigel Planer.
In a thematic press release, the BBC say: "Welcome my lords, ladies and groundlings to the third series of Ben Elton's televisual comedie which starreth David Mitchell in a tale based on the life of William Shakespeare, genius, family man and highly-strung baldy-boots as he struggleth to be all at once a father, a husband, a commuter and the greatest literary genius of all time."
"Especial" guest appearances in the series include Kenneth Branagh as a mysterious stranger and Lily Cole as Ephie, both in the Christmas special "which aireth next December".
They continue: "The series overbrims with guest appearances from mummers such as Montserrat Lombard, Beattie Edmondson and Ben Miller."
The regular cast - alongside Mitchell - of Harry Enfield, Paula Wilcox, Liza Tarbuck, Helen Monks, Gemma Whelan, Rob Rouse, Mark Heap, Dominic Coleman, Steve Speirs, Tim Downie, Spencer Jones and Jocelyn Jee Esien will "all returneth as before".
The BBC says: "Containing turbulent workplace politicks behind the scenes at the first ever performance of Julius Cæſar; a mischievous puckish sprite with a magic love potion who lurketh in the woods around Stratford; prejudice that forestalls Will's writing of The Merchant of Venice; the world's first charity fund raising benefit - Inflated Pig's Bladder Day; a problem with a masked ball and a fake profile; and a Christmas haunting that cometh a little ahead of its time. In amongst these dramas are all manner of transport chaos, divers sinister plots and family arguments, and a quantity of ale and pie..."
Ben Elton says: "With incredible names like Ben Miller, Lily Cole and Kenneth Branagh all making guest appearances, the third series of Upstart Crow really is going to be a truly star-crossed show."
Chris Sussman, Head of Comedy at producers BBC Studios, adds: "It's a great testament to Ben's writing that we've managed to get such a talented bunch joining the cast for our third series."
The series is expected to be broadcast this Autumn.
---
For updates, click the button below.
Share this page