Dave Gorman quits his TV show
Dave Gorman quits Modern Life Is Goodish TV series
Dave Gorman has said that he is ending his Modern Life Is Goodish TV format after five series
He revealed that working over 100 hours a week on each episode was having an impact on his health
Gorman - who will tour live in 2018 - thanked everyone who worked on the show, and the fans for watching it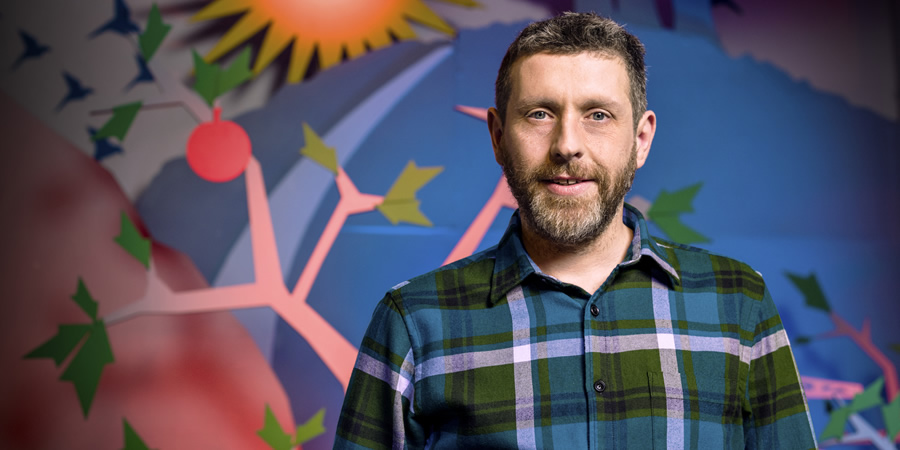 Dave Gorman has announced that he has decided to bring an end to his hit TV series Modern Life Is Goodish.
Gorman revealed that the long hours and stress involved in producing it is having a negative impact on his health.
Launched on Dave in 2013, the format sees Gorman using stand-up and PowerPoint slides to take an illustrated look at various aspects of modern life. The show, which is one of UKTV's most popular comedy programmes, has run for five series, with the latest 8-part run set to finish tomorrow (Tuesday 19th).
Gorman explained why he was quitting the format in a detailed blog post on his website.
He revealed that, during the most intensive parts of the production, he was working "in excess of 100 hours a week", and revealed: "while it doesn't happen every time, there are plenty of occasions where I work through the night and into the next day without sleep because I won't meet the deadlines otherwise".
Explaining his decision further, he says: "It's simply not possible to keep doing that without making yourself ill. In Series 1 we didn't really know what we were letting ourselves in for when it was set up and as a result we only had two weeks between recordings. It's probably not a coincidence that I fainted on stage during the taping of Episode 6.
"Everyone involved - the channel and the production company and everyone working on the show - has been aware of quite how labour intensive the show is to make ever since we began. There isn't an executive involved who hasn't, at some point, been in a meeting with me when I've been awake for 48 hours and counting. And everyone has done everything they can to make it easier. But unfortunately, there isn't a short cut when it comes to building the PowerPoint [presentation]."
He thanked channel Dave for being "brilliantly supportive" and commissioning multiple series at a time, adding: "It's hard to let go of such a wonderful opportunity. I know that if I wanted to make more I could. But I don't want to do it half-cocked. And I don't want to make myself ill doing it either. And I want to do other things too. I want to do more live work."
Gorman announced in November that in 2018 he will tour new live show With Great Powerpoint Comes Great Responsibilitypoint. Writing on his website about the timing of deciding to finish his TV series now, he explained: "In a way, the decision to tour next year made my mind up for me. It would be impossible to create another series at the same time as creating and touring a new show. So Series 6 was never going to happen in 2018. And I can't help thinking that not-working-100-plus-hours-a-week is probably going to feel quite nice after five years of crazy. So it's probably best to leave it there.
"I know that, with ads, each show is less than an hour long... but creating 36 telly-hours in the space of five years is something I'm hugely proud of. There aren't many comics that will get that opportunity. And I like to think I respected the opportunity - and the audience - and always gave my all to it.
"In the meantime, I'm having a bit of time off over Christmas - and the channel and I are actively looking for ways of working together in the future."
He concluded: "It's rare for a series to end like this, with everyone involved feeling happy that it happened and nobody bearing any grudges. If you've enjoyed the shows - thanks for being a part of it. I'm pretty sure they'll be available on UKTV Play for some time to come. The final episode airs tomorrow, Tuesday at 10pm. I hope you can catch it."
For further insight into how the programme was made, and why a less intense schedule couldn't work, read his full blog post.
Long form stand-up on TV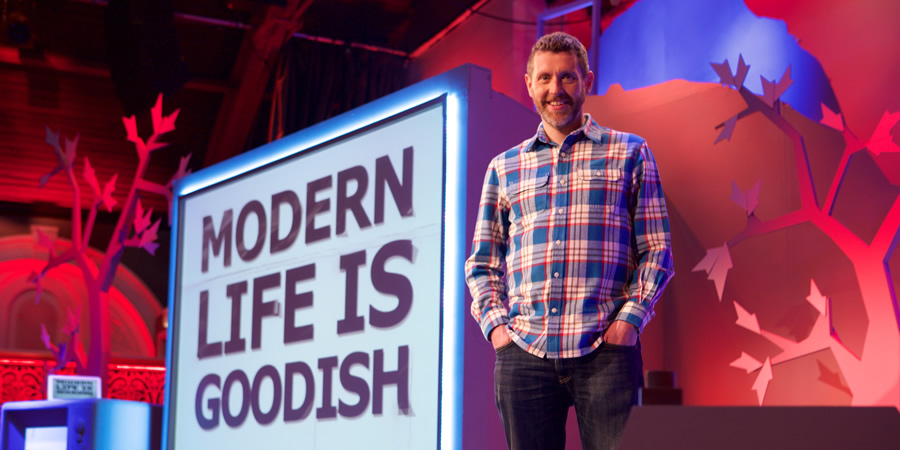 Dave Gorman also used the announcement to discuss how his show is one of the few programmes on TV that gives space for stand-up to be broadcast in 'long-form'.
He blogged: "It seems odd to me that TV largely presents stand-up as something that happens in short sets of 7 or 8 minutes - or even as a quick minute, before 'we get on with the rest of the show'. I don't think that's what any of my favourite comics are best at.
"In terms of live work, the only times you really watch someone doing something that short is when they're a brand new act doing unpaid gigs as they learn or, maybe, somebody more established trying a new idea out somewhere. A standard set on the circuit is 20 minutes, a one-person show at a festival is expected to be 60 minutes and a tour show is longer. If you can get into the position of touring shows in your own name - you have to have worked out how to shape a longer show - and yet the people who have worked that out tend to be the ones being asked to do 7 or 8 minutes of stuff on telly.
"I don't think doing an hour is as simple as just doing three lots of twenty. Or at least it shouldn't be. Because the longer form affords you more opportunities to link things up, to draw out themes, to misdirect audiences in more interesting ways and to make things feel more complete. You have to change things up more or they get wise to your rhythm. A short set can be great - but it's the fast food version of stand-up. It's a dirty burger. But long-form stand-up, done well, can be a banquet."
Gorman, referring back to Modern Life Is Goodish, then said: "With that in mind; what a fantastic opportunity this series has been. When people say they think it's a shame the show hasn't been on a bigger channel, I always ask them to tell me any other channel that has given any other comic the opportunity to do this kind of show? Not stand-up and sketches. Not stand-up and anything else. Not a package of discreet bits that could be edited together in a different order and make just as much sense. Proper, long-form stand-up that actually represents what a touring comic does live? I can't think of many. I don't think I can think of any. Not just now... but for many years.
"In that sense it is a dream job. And I have always tried to go about my job without complaint. There's no point moaning about having-to-come-up-with-more-stuff when coming-up-with-stuff is one of the key parts of your job. That's what we're supposed to do for a living.
"And I'm not pretending that every last bit of it has been all my own work. I'm lucky enough to have worked with a fantastic bunch of collaborators - producers and writers - all of whom have contributed much.
"So please don't mistake [this blog post] for any kind of woe-is-me, moaning. That couldn't be further from the truth."
---
For updates, click the button below.
Share this page