Frankie Boyle 2017 World Order
Frankie Boyle's New World Order returns to look back at 2017
Frankie Boyle's New World Order will return to TV for a special to look back at 2017
The one-off episode will see Boyle and his guests discussing the "bewildering year that has just happened"
Frankie Boyle's 2017 New World Order will be on BBC Two on Friday 29th December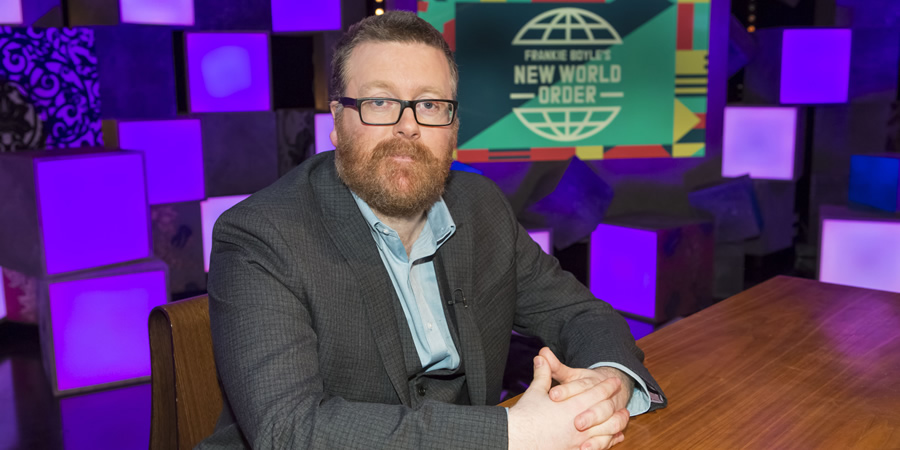 Frankie Boyle's New World Order will return to BBC Two this December for a festive special that aims to "attempt to make mincemeat of the last 12 months".
The one-off episode, which will be titled Frankie Boyle's 2017 New World Order, will see Frankie Boyle and guests "dissect the bewildering year that has just happened".
Producers confirm: "The programme will feature Frankie at his brilliant, satirical best with stand-up, review and discussion - all in an attempt to make mincemeat of the last 12 months."
Frankie Boyle himself says: "I'm so delighted to be doing this show as that little period between Christmas and New Year is something that I've always wanted to ruin for everybody."
The new special follows on from the four-part series that was broadcast on BBC Two in June and July. The episodes, which followed on from the result of the snap General Election, saw the host share his outspoken views on topics and then invite his guests to counter him.
News of this new special follows shortly after Charlie Brooker revealed that he is too busy to make his annual Screenwipe review special for BBC Two this year. Both Brooker and Boyle's shows are made by independent production company Zeppotron.
Speaking about Frankie Boyle's return, Ruth Phillips from Zeppotron says: "From the Brexit fall-out to Weinstein, Trump to Kim Jong Un, 2017 certainly isn't going to leave Frankie short of things to chew over in his inimitable, provocative, scathingly funny way."
Alex Moody, Commissioning Editor Comedy at the BBC, says: "After the well-received series run this year it'll be fascinating - and possibly jaw-dropping - to hear what Frankie and his guests have to say about 2017. His scabrous way of getting beneath the skin of the major stories of the year will be both compelling and hilarious."
The episode is due to be recorded in London on the evening of Tuesday 19th December. Free tickets
Frankie Boyle's 2017 New World Order will air at 10pm on Friday 29th December and will be available on BBC iPlayer following transmission.
---
For updates, click the button below.
Share this page