A Christmas Carol Goes Wrong
BBC to broadcast A Christmas Carol Goes Wrong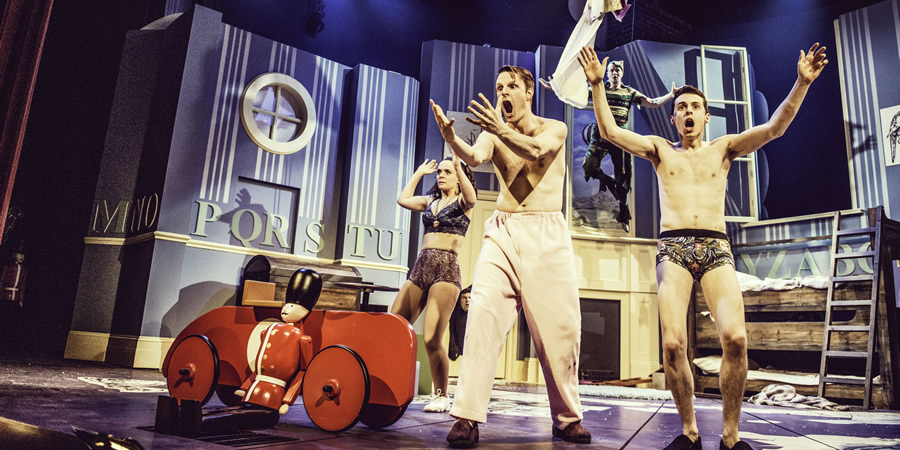 The team behind 2016 festive special Peter Pan Goes Wrong are to return to television this Christmas to present a new one-off show, A Christmas Carol Goes Wrong.
Mischief Theatre, the Olivier Award-winning company behind hit West End shows including The Play That Goes Wrong and The Comedy About A Bank Robbery, are now working on the new family-friendly BBC One special.
The comic take on Charlies Dickens' classic novel - which has been scripted by Henry Lewis, Jonathan Sayer and Henry Shields - will air on the channel over the festive season, and is the company's first original television piece, never before produced on the stage.
Last year's special, Peter Pan Goes Wrong (pictured), was watched by 2.6 million viewers.
The new hour-long show will feature the theatre company's trademark mix of farce and physical comedy, and will be filmed in front of a studio audience in Salford on the 2nd December (Tickets)
The BBC explains: "Blacklisted by the BBC after ruining Peter Pan, the Cornley Polytechnic Drama Society are not taking their ban lying down and force themselves back on the BBC by hijacking the jewel of the Christmas schedule, a 'live' production of A Christmas Carol staged by a professional cast.
"The following hour finds the Cornley gang trying to make the show work on 'live' television as they soon realise they are completely out of their depth with no idea how to direct a live studio or handle special effects and are having their own internal rivalries revealed on television. Plus, there's an angry professional cast trying to get back into the studio."
Mischief Theatre artistic director Henry Lewis says: "We're absolutely thrilled to be back on the BBC this Christmas, but it is regrettable the BBC don't know it yet."
And company director Jonathan Sayer jokes: "I didn't know we were doing this? Do you know when it is filming?"
BBC comedy commissioner Shane Allen comments: "This promises to be a viewing treat for all the family as the Dickens classic gets the full Mischief treatment. Expect chaos and a shambles from start to finish, a bit like most people's experience of Christmas itself."
Chris Sussman, Head of Comedy at BBC Studios, adds: "It's going to be terrible. I can't wait to see it."
The show will star David Hearn, Chris Leask, Henry Lewis, Charlie Russell, Jonathan Sayer, Henry Shields, Greg Tannahill and Nancy Zamit, with guest stars involved due to be announced nearer the time.
A Christmas Carol Goes Wrong will be on BBC One this Christmas.
The group are currently in rehearsals, as can be seen from the picture below.
In true Mischeif style, spending 2 hours choreographing about 10secs of material. #Detail pic.twitter.com/myMOQatUOF-- Mischief Theatre (@mischiefcomedy) November 13, 2017
Below is a clip from Peter Pan Goes Wrong:
---
For updates, click the button below.
Share this page