Billy Connolly retains top spot in C4 poll
Billy Connolly retains top spot in C4 poll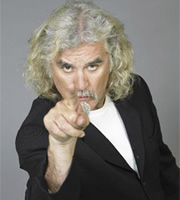 Billy Connolly has, once again, come top of a Channel 4 poll that names the funniest stand-up comedians. The results of Channel 4's revised and updated 2010 stand-up poll were revealed in a four-hour countdown programme. The order of standings was decided via a combination of viewer votes and a judging panel.
American comedian Richard Pryor came second, with Ricky Gervais third, Bill Hicks fourth and Eddie Izzard fifth.
Billy Connolly topped the list the first time the channel run the poll back in 2007. Peter Kay came second that time, but has dropped to sixth in the new updated list.
Michael McIntyre didn't even feature in the original poll, but he has shot straight into 9th spot. Other new entries in the updated list include Frankie Boyle (29th) and Russell Howard (35th).
Meanwhile, Stewart Lee, who based the title of one of his stand-up shows on his 41st spot, may now have to update his posters and website because he has jumped to 12th in the list. Ross Noble's Twitter campaign to vote up classic stage comic Tommy Trinder could be considered a relative success - the wartime comic is now listed 44th.
Within minutes of the countdown finishing some criticism of the results popped up on social networking websites, such as Twitter and Facebook. Some comedy fans questioned how the likes of Jim Davidson, Bernard Manning and Joe Pasquale could be included in the top 100, when "more respected" comedians were missing. Rob Brydon, Richard Herring, Mark Steel, Marcus Brigstocke, Andy Parsons, Jason Byrne, Mark Watson, David O'Doherty, Tim Key and Rich Hall were some of the omissions mentioned.
There was also some surprise at the relatively low positioning of some of the biggest names in British stand-up, notably Lee Evans (only 17th), Jack Dee (26th) and Frank Skinner (45th). Meanwhile, members of British Comedy Guide's message board have expressed disbelief that Billy Connolly had been named Britain's best stand-up again, suggesting in their posts that the Glaswegian comedian is no longer popular enough to come top of a new public vote.
Here are the full results from The 100 Greatest Stand-Ups 2010...
4. Bill Hicks
5. Eddie Izzard
6. Peter Kay
7. Bill Bailey
8. Chris Rock
10. Victoria Wood
11. Ross Noble
12. Stewart Lee
13. Jimmy Carr
14. Dylan Moran
15. Woody Allen
16. Dara O'Briain
17. Lee Evans
18. Harry Hill
19. Sean Lock
20. Tommy Cooper
21. Lee Mack
22. Russell Brand
23. Daniel Kitson
24. Les Dawson
25. Al Murray
26. Jack Dee
27. Alan Carr
28. George Carlin
29. Frankie Boyle
30. Jo Brand
31. Robin Williams
32. Tommy Tiernan
33. Jerry Sadowitz
34. Omid Djalili
35. Russell Howard
36. Tim Vine
37. Jasper Carrott
38. Ben Elton
40. Eddie Murphy
41. Ed Byrne
42. Rhod Gilbert
43. Alan Davies
44. Tommy Trinder
45. Frank Skinner
46. Dave Gorman
47. Bob Hope
48. Johnny Vegas
49. Robert Newman
50. Steven Wright
51. Bernard Manning
52. Chris Addison
53. Lenny Bruce
54. Paul Merton
55. Dave Allen
56. Jerry Seinfeld
57. Joan Rivers
58. Graham Norton
59. Steve Coogan
60. Andy Kaufman
61. Steve Martin
62. Rob Chubby Brown
63. Phill Jupitus
64. Bob Monkhouse
65. Jason Manford
66. Mark Thomas
67. Demetri Martin
68. Paul O'Grady
69. Frankie Howerd
70. Jenny Eclair
71. Denis Leary
72. Alexei Sayle
73. Jim Davidson
74. Bill Cosby
75. Patrick Kielty
76. Chic Murray
77. Emo Phillips
78. Ardal O'Hanlon
79. Julian Clary
80. Ronnie Corbett
81. Tim Minchin
82. Bob Newhart
83. Lenny Henry
84. Dave Spikey
85. Barry Humphries
86. Harry Enfield
87. Jethro (Geoffrey Rowe)
88. Joe Pasquale
89. Sean Hughes
90. Dick Gregory
91. Rik Mayall
92. Ken Dodd
93. Roseanne Barr
94. Arthur Smith
95. Jackie Mason
96. Lee Hurst
97. Frank Carson
98. David Baddiel
99. Shappi Khorsandi
100. Freddie Starr
(For the results of the previous poll see here)
Share this page