Game Junkies on Comedy Central
Comedy Central to pilot new show Game Junkies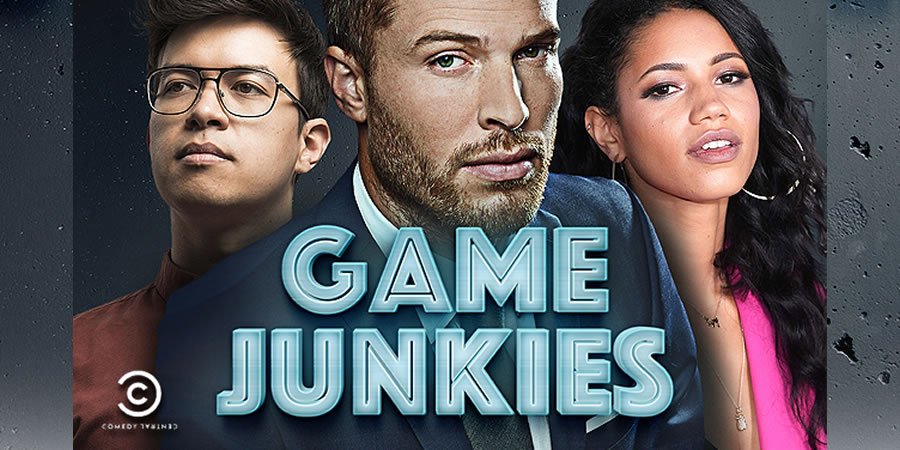 Comedy Central is to pilot a comedy entertainment show 'set in the world of gaming'.
Game Junkies is described by producers as "a brand new fast paced, huge scale, comedy entertainment show."
The format will be hosted by Rick Edwards, Vick Hope and Phil Wang, which the channel describes as "a trio of well-known British comedy faces passionate about computer games and the fan culture around it."
TV presenter Rick Edwards has previously hosted the comedy panel show Safeword, whilst stand-up comedian Phil Wang is a regular on TV on shows including Have I Got News For You and Unspun With Matt Forde. Vick Hope is a presenter and reporter who has previously worked for outlets including ITV2, BT Sport and Capital Radio.
The pilot episode is due to be recorded on the 18th October, and will feature a "very well known celebrity guest" joining the presenting trio. Filming will take place in a converted warehouse in Walthamstow, east London (Tickets) and on location in Scotland.
Jill Offman from Comedy Central says: "Vicky, Phil and Rick are ardent gamers and so are fans. I look forward to the comedy and chaos they unleash when it all comes together."
Ross McCarthy from production company Gobstopper TV, adds: "Gaming as an industry is predicted to top $100 Billion for the first time this year and it has a massive young audience that we want to tap into for Comedy Central. It's a ready-made playground for comedic adventures and our new format hopes to bring the worlds of mobile, online and platform gaming to life. The show includes crazy stunts on location and audience interaction in studio that will leave viewers belly laughing and somewhat miffed by how far and how stupid we've all been in search for a smile from gaming, and non-gaming fans alike."
Game Junkies is the latest in a line of new formats being developed for Comedy Central. The network recently announced it was looking to "further diversify its British comedy offering". Roast Battle UK and improv format Say Whaaat? are amongst the other shows currently in development for the channel.
It is not currently known whether the pilot episode of Game Junkies will be shown on TV. Further details are expected to be revealed in due course.
---
For updates, click the button below.
Share this page
This story was updated on the 24th October to include further details from
Comedy Central
.