Insert Name Here Series 3
Insert Name Here to return for third series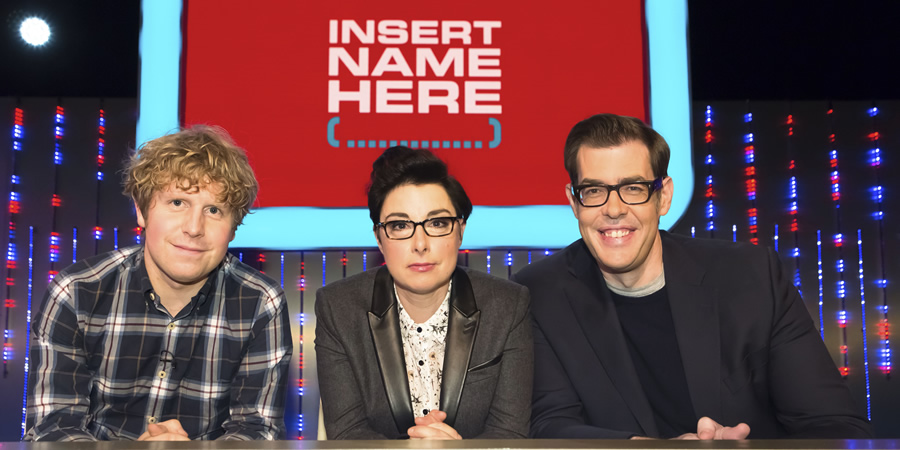 Insert Name Here is to return to screens for a third series, British Comedy Guide can reveal.
The popular panel show, hosted by Sue Perkins, will be back on BBC Two with eight new episodes. The run will start with a Christmas special, followed by seven more episodes which make up Series 3.
Perkins will again joined by team captains Josh Widdicombe and Richard Osman in the co-production between 12 Yard Productions and Black Dog Television, which is filmed at Pinewood Studios.
Talking about the format, the BBC explain: "Each episode is about people who share the same first name, and the two teams compete to decide the greatest ever bearer of that week's chosen name. Cue lots of comic banter, funny facts and unusual stats, as the two teams vie to outdo the other. One thing is guaranteed, the discussions will veer off in many unexpected directions, as the two teams battle it out.
"Historians Kate Williams and Suzannah Lipscomb also take part, and help add some historical context to the comedic proceedings."
Producers and creators of the show, Dan Gaster, Will Ing and Paul Powell, say: "We've been bumped up to an 8 show series this time, which is a lovely vote of confidence from the Beeb.
"We've got some some of our favourite comedians returning, and some exciting new faces too. There's a few we're especially looking forward to, but you'll have to tune in to see who they might be!"
Filming for the eight new episodes begins later this month. For a chance to be in the audience, see our tickets page.
After this year's Christmas special, Series 3 will follow early in 2018.
---
For updates, click the button below.
Share this page