League Of Gentlemen specials
The League Of Gentlemen specials to be filmed in September
Three new The League Of Gentlemen specials are to be filmed this September
The stars say: "We look forward to digging up the old characters - some of them literally"
Filming will take place in Manchester studios and on location in the Peak District
Update: Filming took place between 27th September and 19th October. The episodes will be shown on TV in December. In the meantime - starting 8th November - BBC Four will be repeating Series 1 on Wednesday nights at 10:30pm.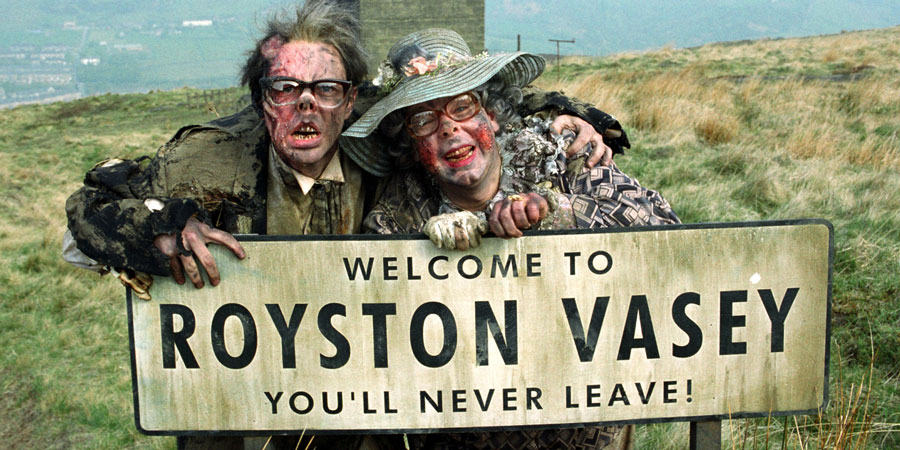 It has been confirmed that the recently announced new The League Of Gentlemen specials will be filmed this September.
The news follows on from the recent confirmation that the hit comedy show will return for three new episodes to mark the 20th anniversary of the group making their debut on BBC radio.
The three episodes will once again star Reece Shearsmith, Steve Pemberton and Mark Gatiss, who have written the new scripts alongside co-creator Jeremy Dyson. Filming will begin in Manchester and the Peak District next month.
The BBC confirms: "After a 15 year absence from television screens, once again the team will be playing dozens of characters, the local denizens of the isolated Northern town of Royston Vasey."
Shearsmith, Pemberton and Gatiss are due to present the Edinburgh Comedy Award - the prize they themselves won in 1997 - at the Edinburgh Fringe this lunchtime (Saturday 26th August).
Talking about returning to TV, the group say: "We are thrilled to bits to be returning to Royston Vasey in celebration of our 20 years at the BBC (with time off for bad behaviour). We look forward to digging up the old characters - some of them literally - and seeing how life has treated them.
"It's been great fun to write these Specials, and we've saved money on the make-up budget by kindly growing ancient ourselves. Like the sign says: You'll Never Leave."
Talking about the group, BBC commissioner Shane Allen says: "Their body of work set a new standard for sketch comedy and saw them become the most original, distinct and influential writer performers since Monty Python. This return to their roots is a thrill for British comedy fans everywhere."
The new episodes will be produced by BBC Studios, with Jon Plowman as Executive Producer, Adam Tandy as Producer, and Steve Bendelack as Director.
Chris Sussman, Head of Comedy for BBC Studios, says: "I'm absolutely delighted and utterly terrified to be returning to the world of Royston Vasey for more from The League of Gentlemen. They've been off our screens for far too long - and I think fans everywhere are going to be in for a terrible treat."
BBC Two controller Patrick Holland says: "The League of Gentlemen are comedy heroes of mine and I am delighted they are returning to BBC Two. Added to brilliant upcoming shows like Motherland, the second series of Mum, and the return of Upstart Crow, Two is the home to the most amazing, original, British comedy."
Broadcast details for the new specials will be confirmed at a later date, but they are expected to air around Christmas.
27th September update: The stars are on location
See tweet
19th October update: Filming has wrapped
The new episodes will be shown on BBC Two in December.
See tweet
---
For updates, click the button below.
Share this page