Friday Night Dinner Series 5
Friday Night Dinner Series 5 confirmed
Friday Night Dinner will return to Channel 4 in 2018 for a fifth series
All the key cast members are set to return for the six new episodes
Storylines will include Adam setting fire to his car and Mum organising her own surprise party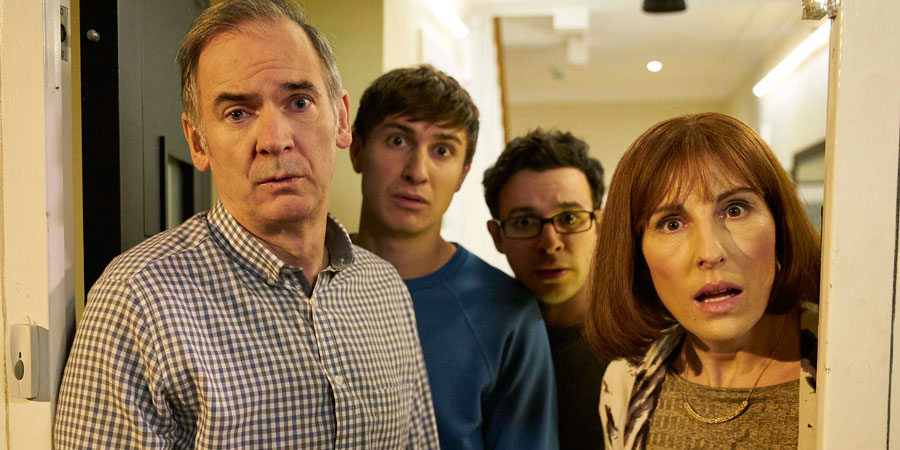 Channel 4 has confirmed that Friday Night Dinner will return, with Tamsin Greig, Paul Ritter, Simon Bird, Tom Rosenthal and Mark Heap all signed up to return for the next series.
In Series 5, Mum and Dad get a hot tub, much to the horror of Adam and Jonny, Adam accidentally sets his car on fire, Jonny won't stop prank-calling Adam, Dad becomes obsessed with his old, terrifying ventriloquist dummy, Mum organises her own, terrible surprise party, Jim goes on a date from beyond hell, Horrible Grandma comes back for more horribleness - and the family have dinner.
Creator Robert Popper jokes: "I'm thrilled to be making a fifth series, and to be taking the show in a completely new, and radical direction. Friday Night Dinner 5 will be shot entirely in black and white, with the family now living and working on a barge in the North Sea. In addition, all actors will have their voices pitch-shifted three octaves higher, with the exception of Mark Wahlberg, whose voice remains the same."
Simon Bird says: "I'm looking forward to six more weeks of eating squirrel, ingesting so much salt that I develop chronically high blood pressure, and humouring an oddball who seems to be pathologically afraid of his own dog. I can't wait to reunite with my old friends Tamsin Greig, Paul Ritter and Mark Heap. And Tom Rosenthal will be on set also."
Tom Rosenthal adds: "During contract negotiations, Friday Night Dinner writer Robert Popper pitched me an hilarious storyline of Jonny Goodman going travelling to North Korea and being run over by a tank so I asked for less money and now I'm here launching series five. I can promise you it was not the PR people who told me to say that it will be Fridayer and Nighter and Dinnerer than ever."
Kenton Allen from production company Big Talk comments: "Ever since we found Robert Popper in a Moses basket near Brent Cross Shopping Centre, we've always known he has got at least 5 series of award winning family comedy in him. We're delighted that he hasn't let us down... yet."
Fiona McDermott, Head of Comedy at Channel 4, said: "We're thrilled to be heading back to the Goodman's for another helping of squirrel and high jinks. Friday Night Dinner is always a real treat and this new series promises even more awkwardness, even worse practical jokes, more ridiculous mishaps and, of course, Jim."
The new six part series will be filmed and broadcast in 2018.
---
For updates, click the button below.
Share this page