QI for America petition receives its 10,000th signature
QI for America petition receives its 10,000th signature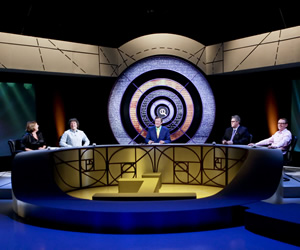 A petition to try and get the British comedy panel show QI broadcast in America received its 10,000th signature last night.
The petition, which was created in 2007, is looking to persuade an American network to televise the show in the States. The hit panel show, which has clocked up over 90 episodes so far, sees host Stephen Fry asks his panel, including resident panellist Alan Davies, to answer questions so difficult that points are given for interesting answers rather than right ones.
To date, no channel in the US has opted to show the programme, partly because of cost. In an interview given in August 2009, the creator of the show, John Lloyd, said that the American broadcasters were worried about how much they would have to pay for the use of copyrighted images. A lot of images appear on the monitors behind the panellists during each show, but Lloyd attack this argument, saying that that the show is already broadcast on digital channel Dave, and that the repeat channel "makes a lot of money from showing QI."
Lloyd said that the American stations that have so far turned down QI include BBC America, PBS, Comedy Central and Discovery. Lloyd is one of the people to have signed the petition, as has Fry. Following his appearance on the show earlier in this current series, American comedian John Hodgman has also now taken on the task of trying to find a US network that will show QI (story).
Although the format has not yet found a broadcaster in the USA, QI is shown in other countries. In 2009, a Dutch version of QI was created and later in the same year the original British version began broadcasting in Australia on the ABC network. The show has also just begun a run in New Zealand on Prime.
If you wish to sign the 'QI in America' petition you can do so here. If you want to find out more about the petition, visit the QI website
The next new episode of QI will be shown on 26th March on BBC One - this has been moved back a week due to Sport Relief. However, before then, an as yet unbroadcast QI XL (the extended edition of of the show) will be transmitted on Saturday 20th March on BBC Two.
Share this page