Taskmaster Series 5 line-up
Taskmaster Series 5 line-up confirmed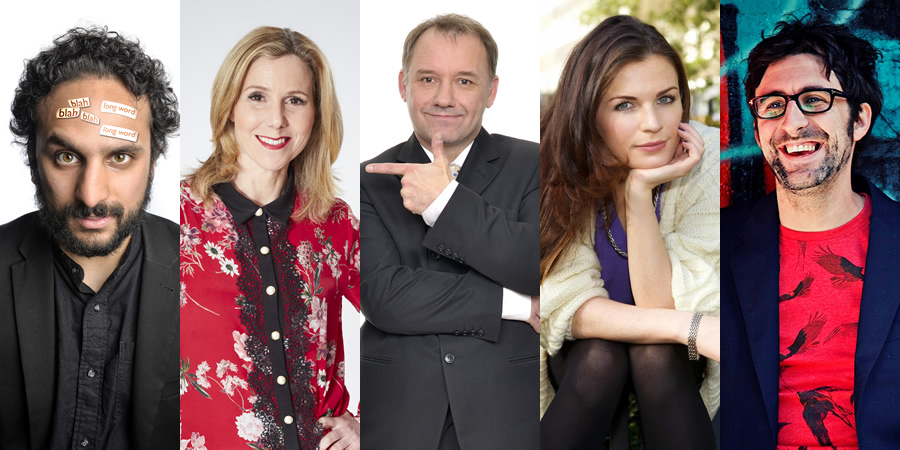 Dave has confirmed the line-up for the next series of Taskmaster.
Those competing in Series 5 will be Nish Kumar, Sally Phillips, Bob Mortimer, Aisling Bea and Mark Watson.
The comedy challenge show's fifth series, which will again comprise of 8 episodes, is expected to be broadcast later this year on the digital channel. Greg Davies and Alex Horne will return as hosts.
The house-based tasks have already been filmed, with studio segments scheduled to be recorded between 3rd and 6th July at Pinewood Studios. Free tickets
[Spoiler alert:] Series 4 was won by Noel Fielding, who joins previous series champions Rob Beckett, Josh Widdicombe and Katherine Ryan in owning a golden trophy fashioned after host Greg Davies's head.
Although it has yet to be confirmed, it is expected that the comedy will also return for a sixth series in 2018. Taskmaster has proved to be a big hit for UKTV, and producers Avalon have also sold the format to various TV channels abroad. Comedy Central USA is the latest to start working on its own version (news).
Speaking in an interview ahead of the recent series, creator Alex Horne talked about how long the show could go on for. He said: "I'd very happily do at least another five series; I think there are limitless tasks and there are so many people I want to be on it. I don't get bored in the slightest."
The following video has been released, which gives a glimpse of the new contestants in the task house:
Check out the un-seen Taskmaster clips:
Watch Series 4 outtakes
Share this page