Sick Note Series 2
Sky orders Sick Note Series 2 with Lindsay Lohan joining the cast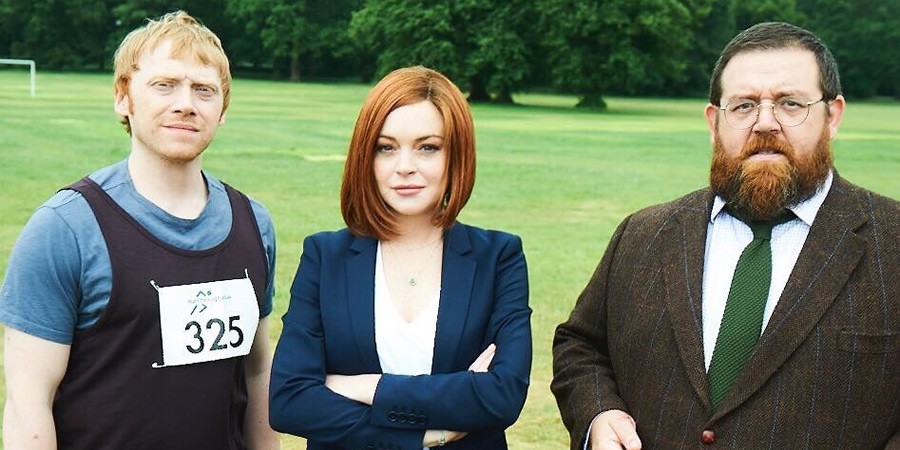 Sky 1 has ordered a second series of its new sitcom Sick Note, before the first series has even been broadcast.
Sick Note follows the story of Daniel Glass (played by Harry Potter star Rupert Grint), a compulsive liar stuck in a failing relationship and dead-end insurance job, under the thumb of irrepressible boss Kenny West (Don Johnson).
Producers explain: "Just when things couldn't get any worse, Daniel is wrongly diagnosed with a terminal illness by his incompetent doctor Ian Glennis (Nick Frost). When the error comes to light, Dr Glennis convinces Daniel to hide the truth of his misdiagnosis from colleagues, friends and family in a lie that spirals wildly out of control."
The first series of Sick Note, which has been created and written by Nat Saunders and James Serafinowicz and directed by the BAFTA-winning Matt Lipsey, has already been filmed and will air on Sky 1 and streaming service NOW TV this autumn, whilst Series 2 is now being filmed for broadcast in 2018.
The second series sees Lindsay Lohan joining the cast as Katerina West, the daughter of Daniel's boss.
Commenting on the commission, Sky's Head of Comedy Jon Mountague says: "One lie leads to the next in this unsettlingly brilliant comedy that will hook viewers in and have them on the very edge of their seats. Filming for Series 2 is already under way and we're delighted to confirm Lindsay Lohan will be joining Rupert and Nick in this stellar comedy cast."
Jo Sargent from production company King Bert comments: "We are thrilled to be making a second series of this nail-biting comedy and very excited to be welcoming the extraordinary talents of Lindsay Lohan to our all-star cast."
Sky is making Sky 1 its home for original comedy, with this series one of a number of "edgier, grown-up comedies" commissioned for the channel's 10pm slot. Also in the autumn line-up will be Bliss starring Stephen Mangan and Heather Graham; and Bounty Hunters, starring Jack Whitehall and Robert Lindsay.
---
For updates, click the button below.
Share this page