League Of Gentlemen to reunite
League Of Gentlemen anniversary special confirmed
The League Of Gentlemen are to reunite for an anniversary special
Mark Gatiss says: "You may be pleased to know that we're planning a 'League' anniversary special!"
Further details are not currently known but 2019 will mark 20 years since their TV debut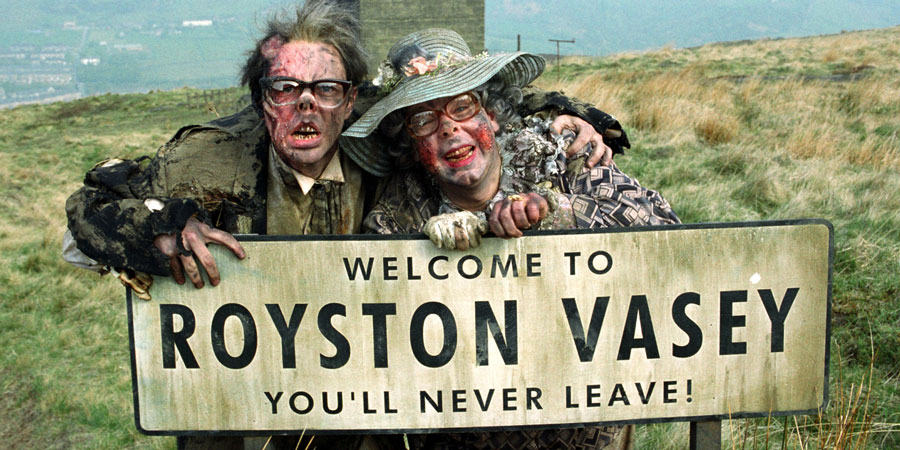 Mark Gatiss has confirmed that The League Of Gentlemen will be reuniting for an anniversary special.
There has been much rumour in recent years about the comedy group reforming, with Jeremy Dyson, Mark Gatiss, Steve Pemberton and Reece Shearsmith having previously met up to discuss the idea. However, it is only today that the quartet have confirmed they will make a new comedy special.
Details are currently scarce, however Gatiss posted on Twitter earlier today: "You may be pleased to know that we're planning a 'League' anniversary special!" The message was confirmed by Shearsmith and Dyson.
It is known the BBC is keen to make more of The League Of Gentlemen, and last year the Corporation revealed it was "highly receptive" to the idea of the show returning. Shearsmith has also revealed previously that they were asked to make a special for the BBC's 2014 comedy season to celebrate the 50th anniversary of BBC Two alongside the likes of Goodness Gracious Me, but were asked "too late" for it to be logistically possible.
The League Of Gentlemen, having made a name for themselves in live shows, launched their unique brand of humour on Radio 4 in 1997. The comedy transferred to BBC Two in 1999, where it ran for three series. A film followed in 2005.
The stars have reunited a number of times since: for example guest starring in Horrible Histories, working together on an episode of Psychoville, and appearing on stage for the Royal Free Rocks With Laughter charity gig in 2013; however fans are still clamouring for new TV episodes.
Discussion of a reunion first surfaced in October 2014 when the group met for lunch to discuss plans, and there have been a number of headlines since speculating about a reunion.
It is not yet known when the reunion special will be made, but Shearsmith has previously mentioned that 2019 would be a good year for a new TV special, as it would mark 20 years since they introduced their dark world and characters to television.
Finding a window when all four members are available may prove to be tricky as all have busy diaries. Shearsmith and Pemberton have been filming Series 4 of Inside No. 9, Mark Gatiss has been working on Doctor Who and Sherlock whilst Jeremy Dyson has been working on various stage show and script editing other TV series.
Further details about the reunion special are expected to be revealed in due course.
---
For updates, click the buttons below.
Royston Vasey - It may look like every bleak provincial town you've ever seen, but as for the locals...
Over thress series and a Christmas special we follow the strange, macabre and shocking stories of some of the residents. Edward and Tubbs, brother and sister shopkeepers whose only desire is to keep their customers local and find a bridge for their 'offspring'. Pauline the demonic Restart Officers whose control problem with pens leads to a hostage situation and a touching tale of transvestistic love; plus the 'Dave' orientated world of wife-collecting, circus master Papa Lazarou.
We discover the root of the curse the plagues veterinary surgeon Dr Chinnery, how plastics salesman Geoff Tipps ends up as a stand-up comic in "Lundun"; how butcher Hilary Briss started the nosebleed epidemic; what Herr Lipp got up to in Duisburg and what skills Charlie Hull offered Spit & Polish Beauty Salon.
Along the way we meet the toad-breeding Denton family, Barbara, the local transsexual taxi driver; 1970s band Crème Burlee's guitarist Les McQueen; schoolboy magician Dean Travalouris and many, many more.
First released: Monday 30th May 2005
Distributor: 2 Entertain
Region: 2
Discs: 5
Subtitles: English
Catalogue: BBCDVD1730
Buy and sell old and new items
Search for this product on eBay
It looks like you're in the US? Fear not! Almost everything can still be ordered.
Amazon UK
deliver internationally,
Amazon.com
carries many items separately, or you can look out for US/Canadian flags on our product listings for direct links.
If ordering from a UK store, please note that you are in Region 1 (DVD)/Region A (Blu-ray), whilst the UK is in Region 2/B, respectively. This means that many - but by no means all - may fail to play. Look for products marked "Region free", "All regions", "Region 0" or "Multi-region". Blu-rays may also be marked "Region A/B/C", "Region free", or variations thereof. You may also check whether your DVD/Blu-ray player supports multi-region playback (also referred to as "region free"), or whether it can be set to do so. There should, of course, be no problems with books, CDs, or other physical items.
More advice & help on importing
Share this page