Porters on Dave
Channel Dave orders hospital sitcom Porters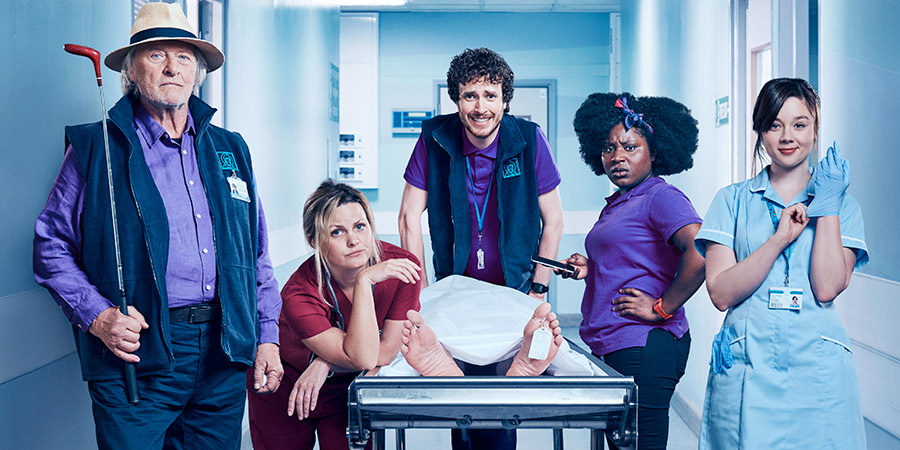 Channel Dave has announced its next home-grown comedy project.
Porters is described as a sitcom "about the unseen life of a modern hospital."
Written by Dan Sefton, the three-part series focuses on deluded Simon Porter, who dreams of passing his medical exam and becoming a doctor - but by starting at the bottom, and becoming the best porter the NHS has ever seen. All he has to do is survive a few months grafting in a hospital basement and try not to kill any of the patients.
Ed Easton, who starred in the We The Jury pilot and has had roles in shows such as Crackanory and Drunk History, will take on the lead role of Simon, with Chewing Gum and Crazyhead star Susan Wokoma as the cynical, self-styled "Queen of the Porters" Frankie. Meanwhile Claudia Jessie (Line of Duty, Josh) will play the naïve nurse Lucy.
Creator Dan Sefton, who has previously written on Gates and Delicious, has based the scripts on his own experiences of working in a hospital. The scripts have been in development since at least 2008.
The show is being produced by new company Dancing Ledge Productions and directed by Vadim Jean (The Rebel, Henry IX).
Pete Thornton, UKTV's senior commissioning editor, says: "Dan is a brilliantly original writer who's crafted a world and set of characters that are rich with promise. Combined with a really fresh, exciting young cast, Porters has all the makings of an exceptionally strong new comedy."
Steve North, from Dave, adds: "Following the continuing strength and success of Red Dwarf and the superb reaction to Zapped last year, we know Dave viewers really enjoy our original scripted content. Porters is another welcome addition to our ever-growing slate."
Laurence Bowen, executive producer at Dancing Ledge, comments: "Dan Sefton is a rare find - an A-list TV writer who also works part time in an A&E ward in Tiverton! So producing his first medical comedy series for UKTV is a real treat. It's authored, smart and full of wonderful characters - in fact everything we've set up Dancing Ledge Productions to celebrate. We want to establish ourselves as a creative home for top writing talent so this first commission for UKTV is an exciting start."
Porters will be shown on Dave later this year.
28th April update: Rutger Hauer joins the cast
Rutger Hauer - the film star who has appeared in movies such as Blade Runner and Batman Begins - has joined the cast of Porters. It will be the first time the Dutch actor has appeared in a British TV comedy.
He is pictured above at the readthrough alongside Claudia Jessie, Ed Easton and Susan Wokoma.
Hauer will play Tillman, a porter and former golfing prodigy who teaches newbie Simon about the ways of the hospital, manhood, karma, and most importantly, love.
Writer Dan Sefton says: "I'm astonished and honoured that a genuine movie legend has agreed to take part in a sitcom written by an idiot. None of us are worthy, especially me. It's quite surreal but utterly amazing to go from watching someone on screen as a kid, to chatting about your script with them in Costa Coffee."
Executive Producer Laurence Bowen adds: "What a treat to be able to announce that Rutger Hauer has joined our cast as hospital porter and all round 'basement guru', Tillman, in his UK comedy debut. His casting will help make the eccentric world of Porters truly memorable."
This story was updated on the 28th April to add in the image from the readthrough and announce that
Rutger Hauer
has joined the cast.
Share this page