Zapped Series 2
Zapped to return to Dave for Series 2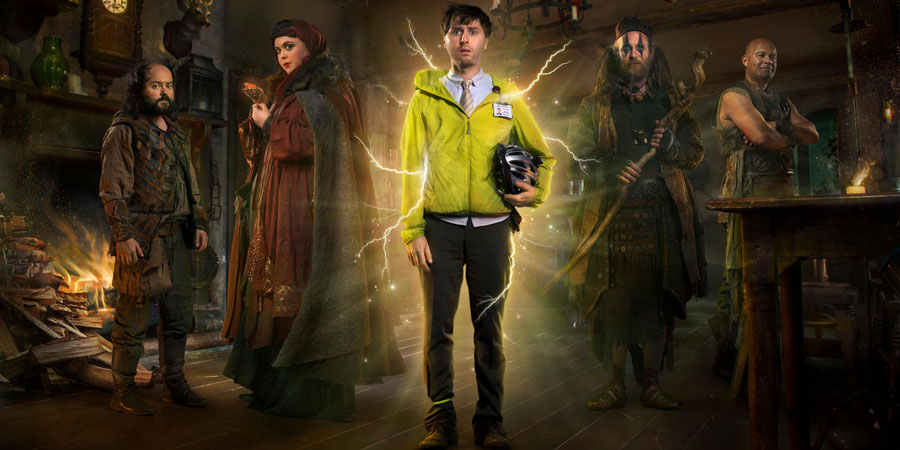 Dave has ordered a second series of Zapped.
The sitcom, which stars James Buckey as a man transported to a transported to a parallel world where he becomes trapped, will return for six new episodes later this year.
Launched in October 2016 as a three-part series, the comedy attracted over 500,000 viewers across its brief, receiving praise from both the audience and press.
The first series saw ordinary office worker Brian grapple with new surroundings after being abruptly 'zapped' into a parallel world, finding himself in the bizarre backwater town of Munty. The series concluded with Brian throwing away his only chance to get home in an effort to impress new love interest Effandra.
The new episodes have been written by creators Dan Gaster, Will Ing and Paul Powell. UKTV says: "Over the course of the new series, Brian will clash with orcs, lizardmen, psychopathic Fairies, hipster blood-suckers and worst of all, actors. He'll experience a terrifying trial by combat, come under attack from deadly stingbugs and celebrate the biggest day in the Munty calendar - the annual Pear Fair."
Louis Emerick will return as barman Herman, with Sharon Rooney as Barbara, Kenneth Collard as Steg and Paul Kaye as Howell.
Steve Coogan, who is an Executive Producer on the project through his production company Baby Cow, which makes the show alongside Black Dog Television, says: "I am delighted that UKTV has asked us to travel back to Munty for another six episodes of complete madness. The fantastic cast will return bringing to life the imaginatively funny scripts from the Black Dog boys. I'll be raising a large Rhubarb Seizure to celebrate!"
UKTV commissioner Richard Watsham adds: "After a brilliantly inventive and engrossing first run of three episodes we are delighted to be returning to the unique world of Munty for a full six-part series. Dave audiences immediately took to the extraordinary characters created by the fertile minds at Black Dog Television and Baby Cow, and we're very much looking forward to finding out how Brian's heroic quest to get home lands him in further trouble."
Steve North from Dave comments: "After a stellar first outing for Zapped we are delighted to bring the brand new comedy back for a second season. Over at Dave we are excited our viewers will get the chance to see Brian (James Buckley) continue his struggle to get back to his old life; helped and hindered in equal measure by the fabulous inhabitants of Munty. The return of Zapped continues our strategy of getting more quality originations on the channel.
Zapped started production at Pinewood Studios on Monday and will film across the month. It is expected to be broadcast on Dave this autumn alongside Red Dwarf XII.
Series 1 of Zapped is available to watch on UKTV Play now.
Share this page