Don't Ask Me Ask Britain
Alexander Armstrong, Jonathan Ross and Frank Skinner star in ITV quiz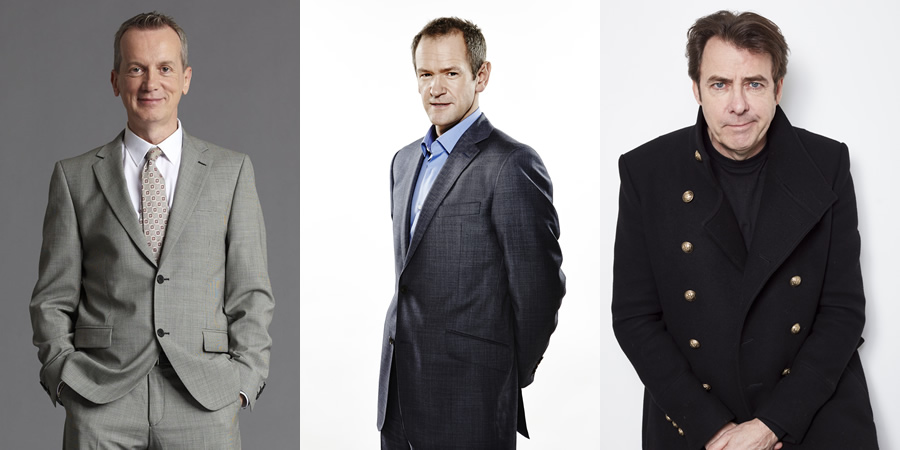 Alexander Armstrong will host ITV's new interactive comedy quiz show Don't Ask Me Ask Britain, with Jonathan Ross and Frank Skinner as the team captains.
Don't Ask Me Ask Britain, which launches on ITV next week, is broadcast live in front of a studio audience, with viewers at home playing along using a phone app. The comedians and their guests must try and second-guess what the audience at home will collectively answer when asked various questions.
Six hour long episodes are to be made. Armstrong, who will have a direct line to the viewers at home via the voting tools on the app, will pose questions on everything from "How many affairs are acceptable in a marriage?" to moral dilemmas; "If you saw someone leave £50 in a cash point, what would you do?" and more topical subjects like "Do you think we should have another Scottish Referendum?"
Armstrong, who also hosts Pointless, says: "This is going to be a totally unique broadcasting experience - one where the outcomes of every round rest entirely in the hands of our audience who participate in real time. We're effectively harnessing the voting public like never before to get instant referendums on the questions that really count: what is the sexiest regional accent, and what to do when you block the toilet at a dinner party: the big stuff."
Speaking in Radio Times, Jonathan Ross says: "I'm thrilled to be involved with the show - I love the idea of using the latest technology to get to the heart of the matter, and am nosey enough to want to know what the rest of the country think about things - from big political questions to those small challenges that we face every day. I can't wait".
Frank Skinner adds: "An hour of live prime time television completely led by an unpredictable public vote. What larks!"
Commissioner Asif Zubairy comments: "Russian revolutionary Vladimir Lenin considered democracy bourgeois. If only he'd downloaded the Don't Ask Me Ask Britain app he'd have seen real democracy in action. The show will deal with subjects that affect everybody's lives every day in a funny and enlightening way and give a snapshot of how modern Britain thinks."
Mike Benson, from production company Chalkboard, says: "Following hot on the heels of Brexit and the US election the show and app allows us to effectively hold 10 entertainment referendums per night! The viewers can tell us how they feel live, unfiltered and as one voice."
A non-broadcast run-through is due to take place tomorrow night (Wednesday 12th) at the ITV London Studios, with the series itself due to launch at 8pm on Tuesday 18th April.
Share this page