Inside No. 9 Series 4
Inside No. 9 Series 4 guest stars revealed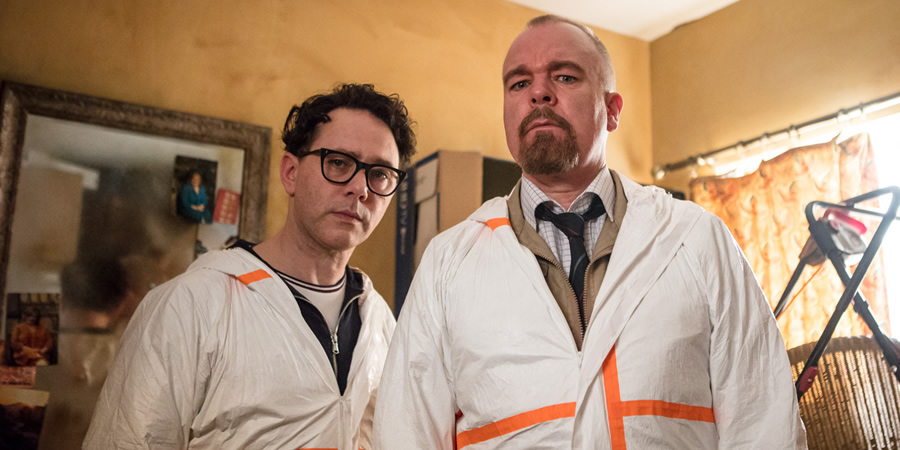 Details on the stars that will appear in Series 4 of Steve Pemberton and Reece Shearsmith's Inside No. 9 have been revealed today.
Shooting on the next six-part series is currently underway at Pinewood Studios, with various actors joining the duo to appear the standalone stories.
My Family's Zoë Wanamaker, Marcia Warren (Vicious) and The Young Ones veteran Nigel Planer are amongst those who have been cast in the new series.
Kidulthood actor Noel Clarke, Silent Witness star Emilia Fox, W1A actor Monica Dolan, Sian Gibson, who plays Kayleigh in Car Share, Lock Stock film actor Nick Moran, and Rory Kinnear (Count Arthur Strong) are also filming roles.
Bill Paterson (Fleabag), Helen Monks (Raised by Wolves), Tanya Franks (Pulling), Kevin Eldon (Damned), Hattie Morahan (Outnumbered), Nicola Walker (Last Tango In Halifax), Miranda Hennessy (Pramface) and Weruche Opia (Bad Education) are involved in the new episodes too.
Kenneth Cranham (Maleficent), Fenella Woolgar (War & Peace), Phoebe Sparrow (Downton Abbey), and David Calder (The Lady In The Van) complete the list.
Details on the new episodes are being kept a secret, however Shearsmith & Pemberton revealed in an interview ahead of the recent third series, that they are continuing to attempt to push television boundaries. One of the episodes will be in reverse chronology, and another has been written entirely in iambic pentameter. Speaking about the 'tone', the creators said the new series will be "much lighter".
The BBC says: "Each of the six films will again feature new characters, new venues and a new twist on the number nine. Filming continues at locations in West London, Pinewood Studios and Waltham Abbey until Easter."
Reece Shearsmith and Steve Pemberton say: "We feel ridiculously privileged to find ourselves at Pinewood Studios filming a new set of episodes (though sadly not in Studio 9). We are getting through more actors than Midsomer Murders and it's a dream to work with the country's finest once again. As ever we've attempted a real mix of styles and genres, including one really brilliant episode and one really disappointing one; we look forward to viewers debating which is which."
Producer Adam Tandy adds: "This year's films once again take place at, in, on or around a big number 9, all of them entirely different and each one filled with a unique and delicious mixture of comedy, drama, love, intrigue, ancient curses, industry gossip, room service, and murderous intent. Take your pick."
The new episodes will be directed by Graeme Harper and David Kerr, who have both overseen previous episodes of the show; and Jim O'Hanlon, who is joining the programme having previously worked on formats such as A Touch Of Cloth and Shameless.
Commissioner Shane Allen says: "Reece and Steve continue to dazzle and amaze with their ever inventive powers of story-telling. Their terrific writing has lured the cream of British acting talent to serve up six completely new and sublimely conceived treats. They transcend the parameters of genre limitations with this widely admired series."
There is no details yet on when the new series will be shown on BBC Two. It will either be later in 2017, or held until 2018.
The first three series of Inside No. 9 are available on DVD. A number of fans have recently been re-watching the show to try and spot the statute of a hare hidden in every episode.
---
To get news updates about Inside No. 9 emailed to you, press the button below...
Share this page