More4 looking to order a full series of Todd Margaret
More4 looking to order a full series of Todd Margaret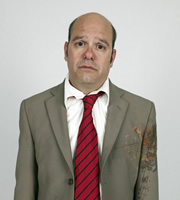 According to Broadcast Magazine, Channel 4's digital station More4 is looking to order a full series of The Increasingly Poor Decisions Of Todd Margaret, a sitcom about an American sales executive for a drinks company who finds himself out of his depth when he is sent to run the UK arm of the business.
The pilot, which was broadcast in November as part of the Comedy Showcase strand, stars Arrested Development's David Cross, with Sharon Horgan and Russell Tovey. It was created and is written by Cross and British comedy writer Shaun Pye.
More4 is now said to be keen to order a full 6 episode series of the show, and is currently in negotiations with "a major US partner" to co-fund the development. If successful, this will be More4's first original comedy series commission. Cross, Horgan, Tovey and Will Arnett are all set to reprise their roles. More 4 plans to air the series in late summer with a repeat on Channel 4 later in the year.
Shane Allen, Channel 4's head of comedy, told Broadcast Magazine that More 4 felt like the show's natural home as Todd Margaret shared the same "smart and sophisticated" tone as US comedies Curb Your Enthusiasm and The Daily Show, both of which are repeated on the Freeview channel. He says: "It's a real passion piece for David, who's been feverishly writing away since the pilot."
The Increasingly Poor Decisions Of Todd Margaret will become the fourth comedy from the seven-episode 2009 Comedy Showcase pilot season to head for a full series. Six new 45-minute episode of Campus, a university-set sitcom from the team behind Green Wing, have already been given the greenlight. Meanwhile E4 has ordered a full-series of PhoneShop; and Pete v Life, a sitcom about a man whose life is analysed by two sports commentators, has been fast-tracked to a full series.
Channel 4's 2010 comedy slate is now full. Shane Allen says he is now waiting to learn what his 2011 budgets are before commissioning any more shows.
Share this page