Richard Herring TV pilot
Richard Herring films multiple universe sitcom pilot for Channel 4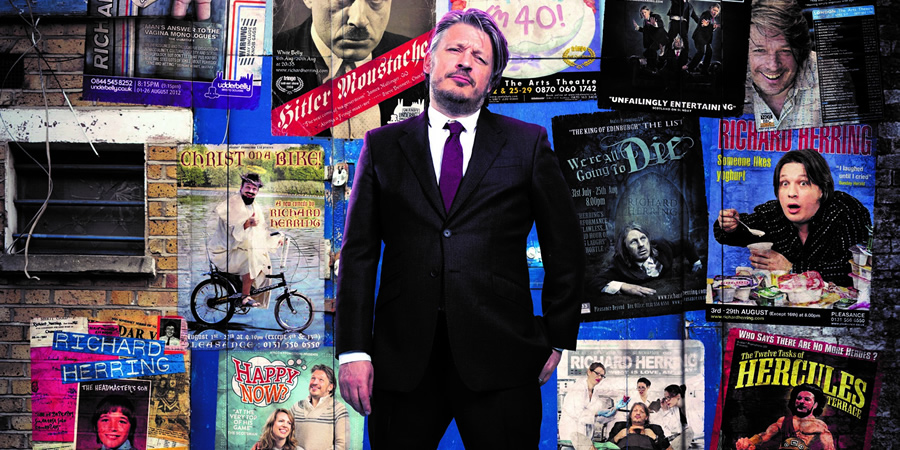 Richard Herring is working on Everything Happens For No Reason, a sitcom about parallel universes.
The comedian revealed in his email newsletter sent today that a short pilot is being filmed this Sunday and Monday for Channel 4.
He explained: "We are filming the ten minute taster tape of this new sitcom about parallel universes this weekend. There's a really brilliant cast - starring me as the main character 'Disgruntled Diner' and some other amazing comedy actors. Alas this short film is only for the eyes of the Channel 4 Executives who will decide its fate."
The show is being overseen by Man Down director Al Campbell. The taster sees Noel Fielding playing Ian, the mysterious figure who can cross between Universes; Jessica Knappett as central character Yvonne, and Ben Bailey Smith as her boyfriend, Gary.
Talking about the show's chances of being commissioned, he added: "I have high hopes. The script seems solid and the performances have been really good in rehearsals and it's a really interesting idea."
Herring has spoken previously spoken about the project via his blog. He explained then: "The sitcom is an attempt to do a 'proper' alternate universe situation and includes big nods to all the shows that I love and love to hate". Goodnight Sweetheart, Sliding Doors, Quantum Leap and Total Recall are amongst the shows and films expected to be referenced in the script.
He added: "It's a big idea, but what I think is hopefully good about it is that it is really about human relationships and human choices and human regrets. And I want to properly explore the mechanics of having an affair in a situation that your partner can never find out about (I think Goodnight Sweetheart went for farce on this, rather than considering the real implications on one's happiness). Would you feel OK about it if you knew you couldn't be caught, or would the guilt still eat away at you? Is it just the danger of discovery that makes having an affair exciting and terrifying at the same time? (you know, I imagine)."
Giving an update on filming in his Sunday 29th January blog, which also contains pictures of the cast on set, Herring said: "I am glad that I still can't get over how much effort gets put in to putting my stupid ideas on to the screen."
Richard Herring's other projects
It's a busy time for Herring, as he is also writing a Radio 4 sitcom. Relativity, which was announced last August, is described as a series about a "multi-generational family", featuring "death, birth, falling in and out of love, resentment over forgotten slights and indestructible affection."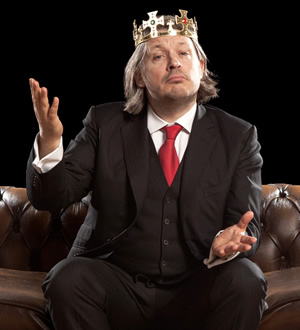 Providing an update to his newsletter readers on his radio project, he explained: "I have written three of the four episodes for this Radio 4 sitcom and again there are some very exciting names in the frame to play the family members. I will have a proper named role in this one and we're recording it in March and it will be coming out over the summer. I think it's shaping up really well."
The stand-up comedian is also still working on his Kickstarter-funded shows too. The final episode in a new series of As It Occurs To Me is due to be recorded in front of a live theatre audience on the 12th February (Tickets), with the videos then released online later in the year.
His hit audio show, Richard Herring's Leicester Square Theatre Podcast, also continues, with episodes featuring Simon Munnery, Lucy Porter and Peter Serafinowicz due to be published via British Comedy Guide over the next three Wednesday. Meanwhile, a new batch of interviews are due to be recorded from Monday 5th June (Tickets).
On top of his film and audio projects, Herring also continues to perform live, with dates for his Best Of tour booked in venues around the UK from this February to June. Tickets
Further details on the status of Everything Happens For No Reason are expected once Channel 4 has viewed the taster tape, meanwhile Relativity will be broadcast on Radio 4 in the summer.
This story was updated on Monday 30th January to include the casting details revealed in Herring's blog update.
Share this page