Upstart Crow Series 2 stars
Guest stars revealed as filming starts on Upstart Crow Series 2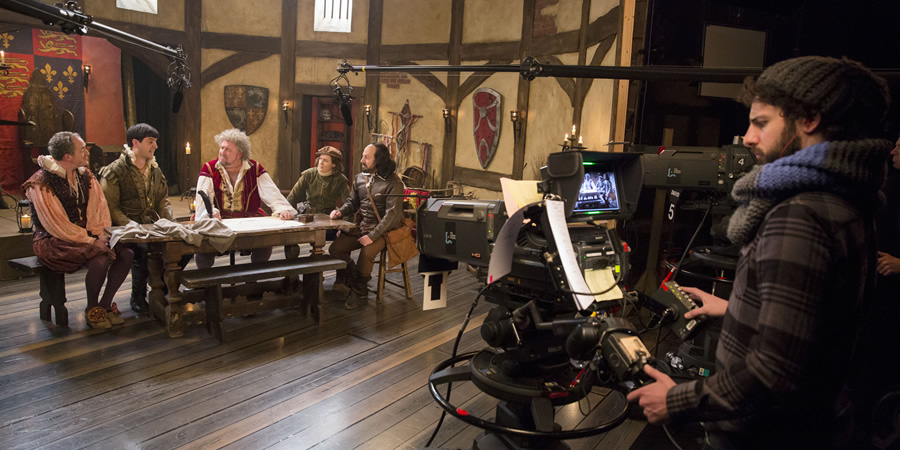 Filming started on the new second series of BBC Two's Shakespearean sitcom Upstart Crow on Tuesday night.
The new run, which has been scripted by Ben Elton, sees David Mitchell return as William Shakespeare for more comic adventures. The new episodes includes references to Shakespeare masterpieces such as Othello, Romeo and Juliet and Twelfth Night.
The BBC explains: "Will is still striving to make his mark in the theatre whilst battling the commute from London to Stratford-Upon-Avon to see his family, a journey made all the harder by typical Tudor problems like a strike by the coaching staff, coach cancellations and unusually wet leaves. But while the London elite sneer at country-boy Will at least he has the help of his servant Bottom, trusty friend Kate and not-so-trusty friend Marlowe.
"This series reveals some of the surprising stories behind Will's plays, including a brush with an African general (played by Steve Toussaint) who takes a shine to Kate; a cut-price trip to Verona to look for inspiration; a collaboration on a new comedy with madrigal maestro Thomas Morley (Noel Fielding); a shrewish teenage daughter who may or may not need some "taming"; and a very frantic visit to Stratford that reveals the original inspiration for Falstaff."
They add: "We also meet Simon Hunt (Geoffrey Whitehead), the schoolmaster that made Will's life a misery in his boyhood and looks likely to do the same again; and at Christmas Will finds himself summoned before the Queen to present a special performance of the early draft of Twelfth Night, working title Eighth Night; and of course along the way there's a great deal of wit, ale, pies and women dressing as men..."
It has been revealed today that Emma Thompson will take on the role of Queen Elizabeth I in the Christmas special. It follows a picture posted on Twitter earlier this week that revealed Noel Fielding as a guest star in the series.
First episode in the can of #UpstartCrow series 2! Fantastic audience. Made even better by this young hepcat joining the fun. It's a blinder pic.twitter.com/vH03EjzREz-- Tim Downie (@TimDownie1) January 24, 2017
The episodes, including the Christmas special, are being recorded in front of audiences at The London Studios on Tuesday nights. All the regular cast from the first series are returning, with Harry Enfield as Will's dad, John Shakespeare; Paula Wilcox as Will's mum, Mary Arden; Liza Tarbuck as Will's wife Anne Hathaway; Helen Monks as their daughter Susanna; Mark Heap as Will's nemesis Robert Greene; Rob Rouse as Bottom; Gemma Whelan as Kate; Tim Downie as Marlowe; Jocelyn Jee Esien as Lucy; Dominic Coleman as Condell; Steve Speirs as Burbage; and Spencer Jones as Kempe.
David Mitchell says: "Perhaps the hardest part of being in a new series of Upstart Crow is the challenge of improving on the quote I gave for the press announcement of the first series - a challenge which I have come to the conclusion I am unequal to."
Commissioner Shane Allen comments: "This is the dream combination of masterful comedy penmanship from Ben Elton, a cast littered with well-loved comedy actors both old and new who lampoon the life and work of this cultural giant we were all taught to revere in school. It's British comedy at its finest."
Chris Sussman, Head of Comedy at BBC Studios, adds: "It's great to welcome back our merry band of players - and if David Mitchell manages to learn all the soliloquies Ben's written for him then he should be instantly knighted."
Series 2 of Upstart Crow be shown on BBC Two later this year.
On Monday it was revealed that visitors to BCG voted Upstart Crow as the Best New Sitcom of 2016 in the Comedy.co.uk Awards.
Share this page