Gold TV Comedy Audit results
Fawlty Towers named comedians' favourite sitcom
TV channel Gold has surveyed comedians to find out their favourite sitcom scenes and one-liners
Fawlty Towers, I'm Alan Partridge, Blackadder and The Office are amongst the favourite shows
The most popular sitcom scene is Alan Partridge meeting a superfan who has a room dedicated to him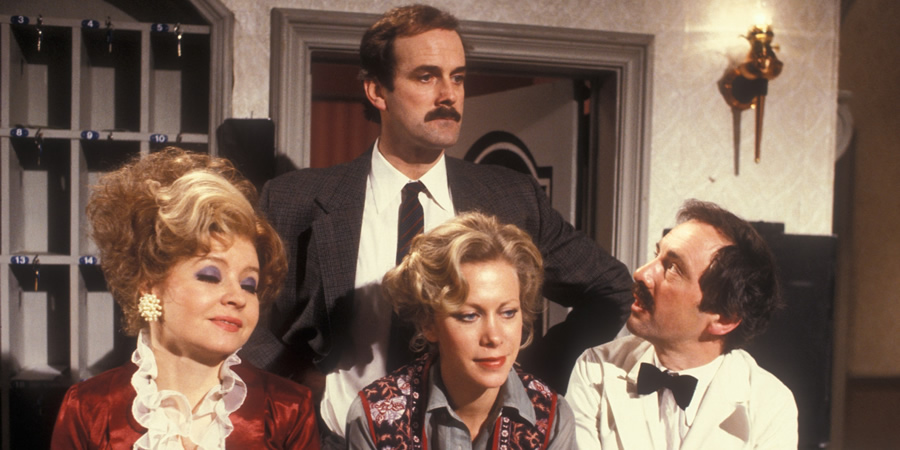 A new survey of comedians has revealed their TV comedy tastes.
The study, conducted by UKTV channel Gold, asked over 100 professional comedians and comic actors to pinpoint their favourite sitcoms, one-liners, scenes, characters and actors.
The results are as follows:
Favourite British Sitcom
1. Fawlty Towers (32%)
2. I'm Alan Partridge (26%)
3. Blackadder (21%)
4. The Office (18%)
5. Father Ted (16%)
6. Peep Show (12%)
7. Only Fools And Horses (9%)
8. The Thick Of It (8%)
9. Absolutely Fabulous (8%)
10. Porridge (7%)
Favourite Scene from a British TV comedy
1. Alan Partridge meets a superfan who has a room dedicated to him (I'm Alan Partridge). Watch the clip
2. Tim and Dawn finally get together (The Office)
3. Basil Fawlty argues with the Germans, stressing "Don't mention the war!" (Fawlty Towers)
4. The "Don't tell him Pike" scene with German prisoners (Dad's Army)
5. Del Boy falling through the bar (Only Fools And Horses)
6. Father Ted and the terrified priests stray into the lingerie department (Father Ted)
7. Mrs Richards complains about her room to Basil Fawlty (Fawlty Towers)
8. The entrance of Lord Flashheart in Blackadder II
9. Del Boy and Rodney run as Batman and Robin (Only Fools And Horses)
10. David Brent begs for his job as he gets fired (The Office)
Favourite one-liner from a British TV comedy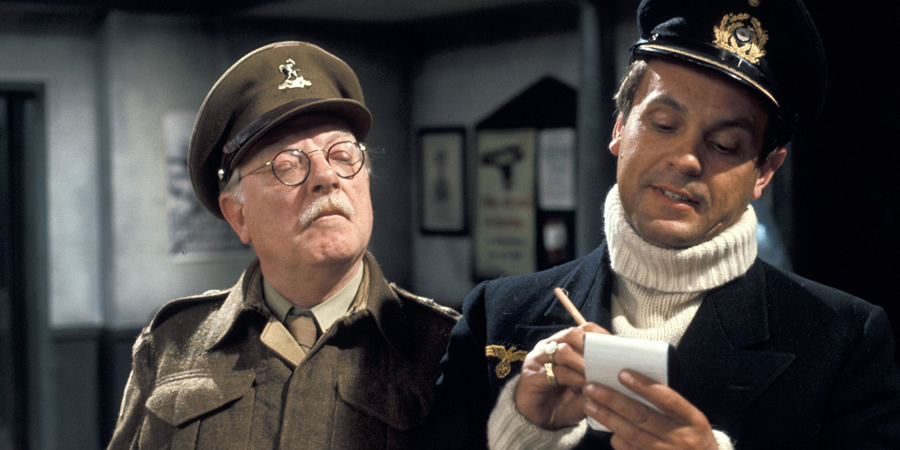 1. "Don't tell him Pike."
In Dad's Army, Captain Mainwaring's line when Pike is asked his name by a German prisoner.
2. "A pint? Why that's very nearly an armful!"
In Hancock's Half Hour, Tony Hancock learns how much blood he has to give during a blood donation.
3. "These [toy cows] are small. But those [real cows] out there are far away. [Points to toy cow] Small... [Points to real cow] Far away."
In Father Ted, Ted explains to Father Dougal the concept of perspective.
4. "I know noth-ing."
In Fawlty Towers, Manuel responds to Basil's plea to confirm he placed a winning bet on a horse.
5. "Monkey Tennis?"
In I'm Alan Partridge, the presenter pitches programme ideas to the BBC Commissioning Editor, Tony Hayers. After a string of no's, he desperately puts forward his last programme idea.
6. "One more facelift on this one, and she'll have a beard."
In Absolutely Fabulous, Patsy judges celebrities as she looks through magazines.
7. "I suppose I've created an atmosphere where I'm a friend first, and a boss second. Probably an entertainer third."
In The Office, David Brent talks about the effect of his management skills on the workplace.
8. "They're only the band The Beatles could have been."
In I'm Alan Partridge, the DJ explains who the band Wings are.
9. "I've got a plan, and it's as hot as my pants."
In Blackadder, Lord Flashheart suggests to Kate the idea of running away together.
10. "You were expecting a bloke: beard, Bible and bad breath. Instead you've got a babe with a bob cut and a magnificent bosom."
In The Vicar Of Dibley, Geraldine Granger introduces herself to the villagers.
Favourite actors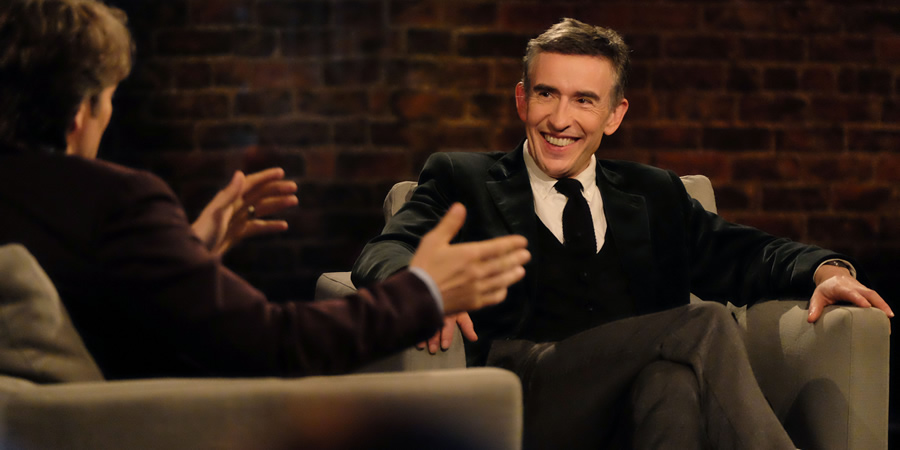 Steve Coogan topped the list of favourite male comedy actor, followed by Rik Mayall, Ronnie Barker and John Cleese.
Joanna Lumley was named as the favourite comedic leading lady, ahead of Caroline Aherne, Julia Davis, Penelope Keith and Victoria Wood.
Favourite characters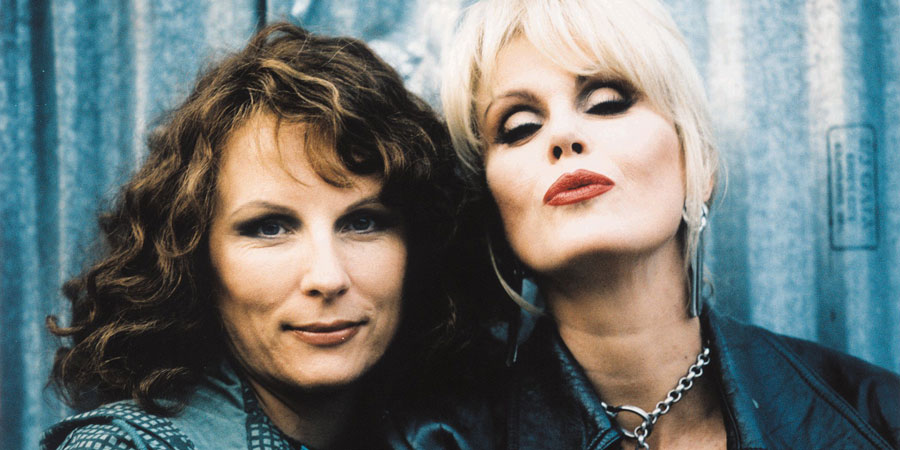 Absolutely Fabulous duo Patsy Stone and Edina Monsoon came out first and second respectively for comics' favourite female roles, followed by Denise from The Royle Family and Father Ted's Mrs Doyle.
The industry's favourite male comedy character was crowned as Alan Partridge, followed by Basil Fawlty, David Brent, Del Boy, and then Rick from The Young Ones.
---
Titled the 'Gold TV Comedy Audit', the survey was undertaken to promote We Have Been Watching, the channel's new TV series in which comedians and comedy actors watch classic sitcom scenes.
The channel says: "The list of comedians who took part in the study included the likes of David Baddiel, Jenny Éclair, Zoe Lyons, Reece Shearsmith, Alexei Sayle and James Acaster, with results highlighting the vast breadth and hilarity that British TV comedy has to celebrate."
Comedy critic Bruce Dessau, who compiled the audit, says: "We are well-known across the world for our 'British sense of humour', which is shown at its best in many of our best-loved and timeless comedy classics. The art of comedy is almost impossible to define, but many of these characters, lines and sitcoms are brilliant examples of the very best in the history of British TV comedy - many of which can all be enjoyed again in a fresh take on the new series We Have Been Watching, as some of the top comedy folk share their views on the funniest moments telly has to offer."
We Have Been Watching is on Gold on Wednesdays at 8pm. Below is a clip in which some of the participants watch Basil Fawlty hitting his car with a tree branch:
The full list of contributors who took part in the poll can be found via Beyond The Joke
Share this page