Home From Home series
BBC orders full series of Home From Home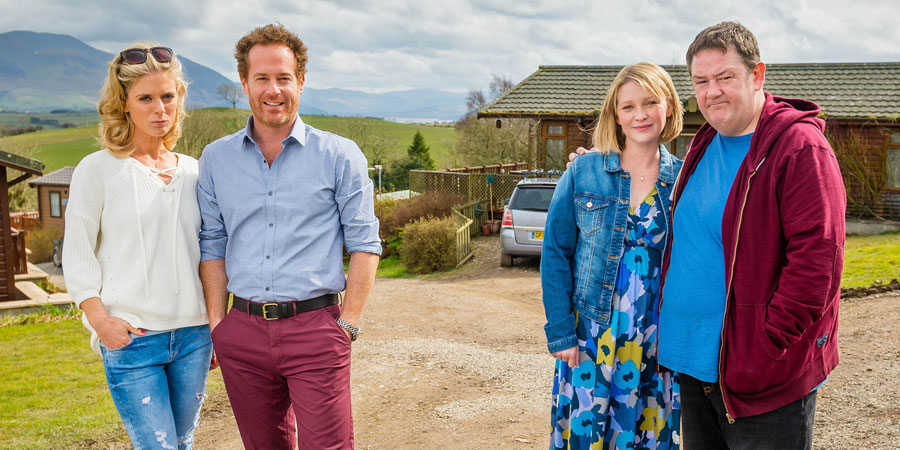 The BBC has announced it has ordered a full series of Home From Home, the sitcom starring Johnny Vegas, Joanna Page, Emilia Fox and Adam James.
Home From Home follows the story of a family who buy a holiday lodge in the Lake District. It was piloted in September as part of BBC Two's New On Two strand, within the corporation's Landmark Sitcom Season. It is the second of the pilots to go to series, with Motherland already having been given the green light.
The new six-part series will move from BBC Two to BBC One when it is broadcast in 2017, with all the main cast members expected to return.
In the pilot, Johnny Vegas took on the role of Neil Hackett, whilst Joanna Page played his wife, Fiona. Together with their two reluctant sons, the characters headed to their 'traditional' (rather rundown) lodge at Lake View Holiday Park for the first time, having spent years saving up to buy it. There they met the Dillons, Robert and Penny (Adam James and Emilia Fox), who - on the surface at least - appear effortlessly superior in every way.
The series - written by Chris Fewtrell and Simon Crowther - is likely to continue the story from where the pilot left off.
Johnny Vegas says: "We are thrilled with the news that Home From Home is going to series and cannot wait to get to work. We all felt we were on to something very special whilst making the pilot and were rewarded with some wonderful feedback following its broadcast.
"We have so much more to explore with these characters and relish the opportunity to share where they go from here. The opportunity to work closely with Home From Home's creators, fellow cast members and producer Rebecca Papworth is one I'm chuffed to have. We are absolutely chomping at the bit to deliver a worthy addition to BBC One's rich comedy pedigree."
BBC commissioner Shane Allen adds: "It is terrific to have another series spring from our recent Sitcom Season. Featuring a knock out cast; rich comedy themes - the northern family versus the southern one; plus those on their way up the class ladder alongside those on their way down. There is something for everyone to relate to and it has a big heart making it the perfect fit for BBC One. We need cheering up now more than ever and it's about time Johnny Vegas was front and centre of a broad appeal sitcom."
Producer Rebecca Papworth comments: "Johnny Vegas brought the northern, uptight, chippy Neil Hackett fantastically to life in the pilot episode, and with our wonderful cast and fabulous Lake District location we can't wait to bring more of his excruciating antics to BBC One."
Home From Home will go into production in 2017.
Share this page