Whack-O! episodes found
Whack-O! episodes rediscovered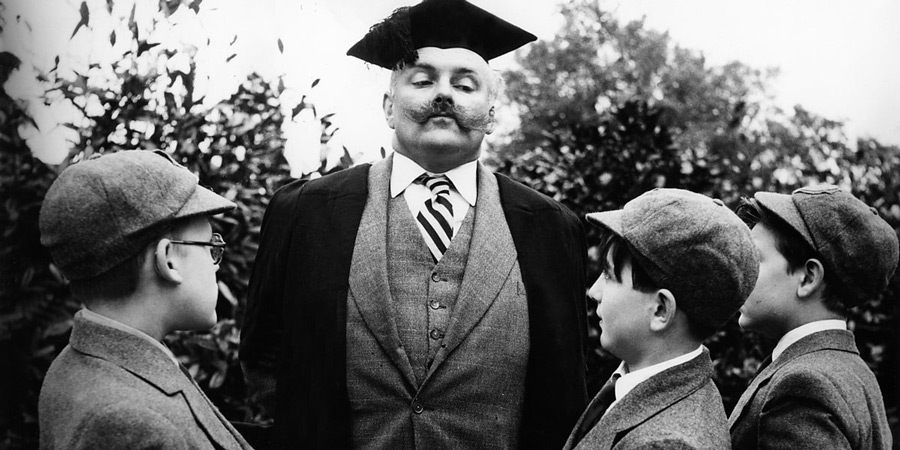 The BFI has confirmed that it has recovered further previously lost sitcom episodes.
Three editions of the sitcom Whack-O! have been identified, in a private collection held by a man named Ray Swinden.
Set in a somewhat run-down public school, the popular sitcom ran for seven series from 1956 to 1960. It was revived for an eighth series, in colour, running through the winter of 1971-1972. The show's popularity saw it adapted for radio from 1961 to 1963, and a film entitled Bottoms Up was released in 1959. Bottoms Up is available on DVD.
Written by prolific scriptwriters Frank Muir and Denis Norden, Jimmy Edwards starred in the comedy as the headmaster of boys' boarding school Chiselbury, a man ever in search of an opportunity to save - and make - money, and pour himself a drink as often as possible.
The three newly recovered episodes are as follows:
Series 5 Episode 4 - The Empty Cash Box (1st December 1959)
Series 6 Episode 4 - The Old Lag (3rd June 1960)
Series 7 Episode 5 - Jim's Better Self (20th December 1960)
The final of the three episodes, Jim's Better Self, was screened at the BFI on Sunday afternoon at its annual Missing Believed Wiped event, showcasing highlights of archival rediscoveries from the previous 12 months.
The episode saw Professor Edwards and his naive assistant, Pettigrew, preparing to go on a skiing holiday over Christmas only to find one of the boys has been struck down by a particularly infectious case of measles. Consequently, all who have not previously suffered the condition - headmaster included - must be quarantined within the school for the entire Christmas period.
Sources differ on the exact figure, but around 60 episodes of Whack-O! were produced. The new finds bring the surviving total to 7.
Also announced was the discovery of the first ever recovered episode of the 1962 Just William adaptation William, starring Dennis Waterman. The episode is the second of the first series, William And The Leopard Hunter. All eleven other episodes of the comedy are missing.
Additionally, a Series 2 episode of 1960 - 1962 childrens' sitcom Bonehead was identified, but is in very poor quality and estimated to be around 30% irretrievable.
The programmes were all recovered by the BFI and with assistance from archive television organisation Kaleidoscope, who run the lostshows.com search engine.
Share this page