Mitchell & Webb's Back
Channel 4 orders full series of Mitchell & Webb comedy 'Back'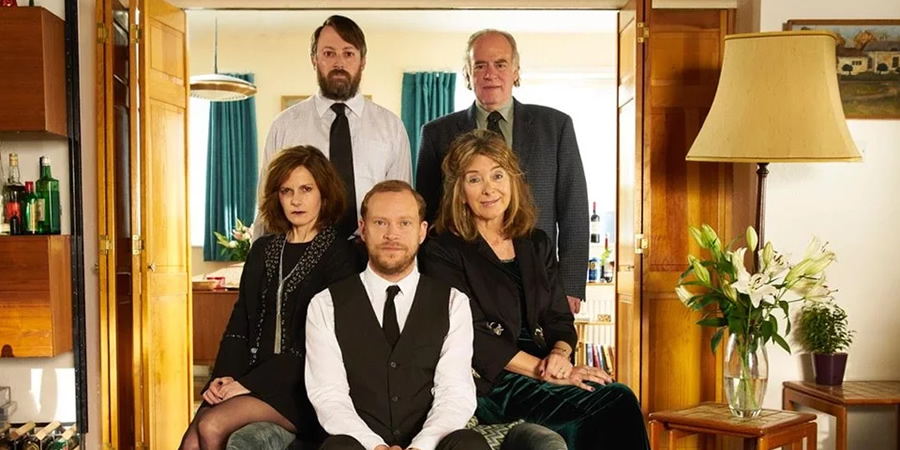 Back, an "acerbic" new sitcom project featuring Peep Show stars David Mitchell and Robert Webb, has been given a full series.
Following a non-broadcast pilot, Channel 4 has now ordered a full set of scripts from Emmy-award winning Peep Show and Veep writer Simon Blackwell.
The six-part series will be filmed in the spring, for broadcast on Channel 4 later in the year. It focuses on a dysfunctional family running a pub.
Channel 4 explain: "Stephen's father, local legend Laurie Nicholls, has died so Stephen's set to - finally - take over the family's pub. Mum Ellen and sister Cass have no interest in the family business - they're 'creative', with weed to buy and energy-centres to rebalance. With his dad dead, it's now Stephen's chance to shine - his only achievements so far have been marriage (followed by divorce) and a slightly disappointing pub refurb.
"But when the charming Andrew turns up out of the blue at his dad's funeral, Stephen's plans go awry. Charismatic Andrew has lived in Sydney, Amsterdam, Chicago, the Loire valley and Berlin but crucially, spent five formative months in 1989 fostered by Laurie and Ellen as a 15-year-old. To Stephen, Andrew was just one of a string of 30-odd foster kids who he spent his childhood resenting. But Andrew remembers every single detail and sees that time as the most important of his life.
"Now Andrew's back, and keen to revisit the closest thing he's ever had to a family. Ellen loves Andrew. Cass loves Andrew. Even Laurie's erratic brother Uncle Geoff loves Andrew. But Stephen doesn't love Andrew. He thinks he's a glib, dangerous sociopath who's about to steal his family, his business and his life."
David Mitchell takes on the role of Stephen, with Robert Webb playing Andrew.
The rest of the cast for the series has yet to be announced, however it is known that in the non-broadcast pilot (pictured) Stephen's bohemian mother Ellen was played by Spaced star Julia Deakin, the role of sister Cass was fulfilled by Sherlock actor Louise Brealey, and Geoffrey McGivern played Uncle Geoff.
David Mitchell says of the series: "It's great to be making a new show for Channel 4, a broadcaster which has always been huge supporter of new comedy, and with a writer of Simon Blackwell's talent. And, in Simon Blackwell, we've found a writer of precisely Simon Blackwell's talent. His writing is deep, dark, warm and funny - like a hot tub brimming with laughing gravy." Robert Webb adds: "That sounds disgusting."
Simon Blackwell comments: "I always jump at the chance of writing for Robert and David. They are brilliant comic actors - funny and real. I can't wait for us to start making this."
Fiona McDermott from Channel 4 says: "David and Robert are part of the Channel 4 comedy family and it's wonderful to welcome them back, in Back, with the brilliant Simon Blackwell at the helm."
The series is being made by That Mitchell & Webb Company in conjunction with Friday Night Dinner and Rev producers Big Talk Productions.
Kenton Allen, from Big Talk Productions, adds: "Good things come to those that wait and Back absolute proof of this. Simon, David and Robert are the Holy Trinity of British Comedy and it's a rare privilege to be working with such exceptional comic minds."
Back will be on Channel 4 in 2017.
16th May 2017 update
Back is now being filmed:
First day of filming on #BackC4 today (with @arobertwebb and written by @simonblackwell). It'll be on @Channel4 later this year. pic.twitter.com/cr8wfBTDXd— David Mitchell (@RealDMitchell) May 15, 2017
Share this page