Taskmaster Series 4 & 5
Dave orders Taskmaster Series 4 and Series 5
Channel Dave has ordered two more series of Taskmaster
The series have been extended from five to eight episodes each
Greg Davies and Alex Horne will be joined by as-yet-unnamed groups of comedians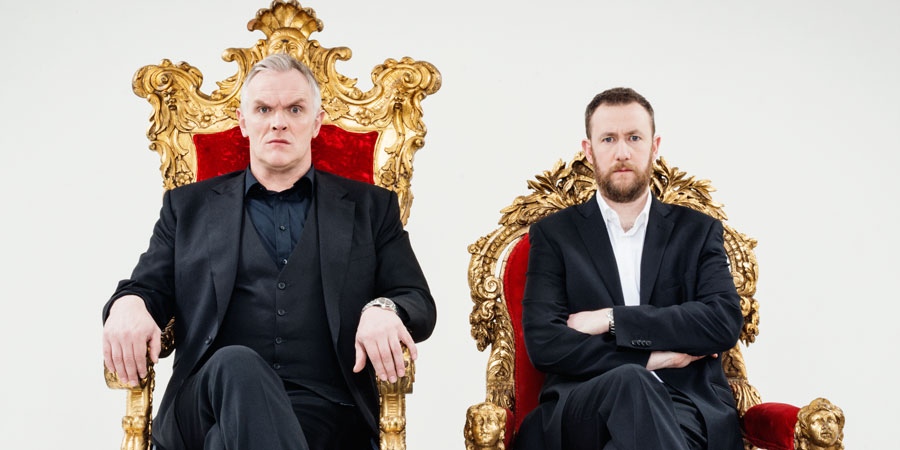 Dave has ordered two more series of Taskmaster, the show created by Alex Horne in which Greg Davies sets comedians challenges.
The news comes with Series 3 of the show - featuring Rob Beckett, Paul Chowdhry, Dave Gorman, Al Murray and Sara Pascoe - is set to launch on TV tomorrow night (Tuesday 4th October).
Series 3 was originally due to not be shown until 2017, but the reception to Series 2 was such that broadcast was brought forward.
With the series proving a hit for Dave, Series 4 and Series 5 will be extended from the current five to eight episodes each. The format was 2015's most-watched commission on catch-up platform UKTV Play, and has been licensed to Belgium, Sweden, The Netherlands and Finland.
UKTV commissioner Hilary Rosen comments: "Greg and Alex are growing into an irresistible double act and it's a joy to watch the tasks unfold on each of the series. I'm thrilled to commission not just one, but two new series for the channel and look forward to getting our next contestants lined up."
Alex Horne says: "As the Taskmaster's personal secretary and trainer I have been instructed to state that we're both satisfied that a total of ten apparently intelligent comedians will be doing more stupid things stupidly for Mr Davies. The Taskmaster has even bought me a caravan so this time I will be constantly on site to watch the desperate attempts and report back, before he ignores me and judges them."
Jon Thoday, from production company Avalon Television, says: "We look forward to working with Dave on series four and five of Taskmaster - the channel is a brilliant home for entertainment shows and we really appreciate their continued support."
Steve North, Dave general manager, adds: "Taskmaster just keeps getting bigger and better. I look forward to seeing what fresh hell Greg and Alex bring to the new unsuspecting contestants. It's fantastic that we have built a show on Dave which has generated such a brilliant fanbase and viewers are genuinely excited to see what tasks Alex Horne's genius mind comes up with every episode."
The new episodes are due to be filmed next year. There is no news yet on which comedians will be taking part.
Below is a clip from tomorrow's new episode, in which Sara Pascoe and Al Murray must get to a microwave in as few steps as possible:
Share this page