Trollied Series 6
Sky 1 orders Trollied Series 6
Sky 1 has ordered a sixth series of supermarket comedy Trollied
Rufus Hound and Georgia May Foote are joining the show
The eight new episodes will be shown on Sky 1 later this year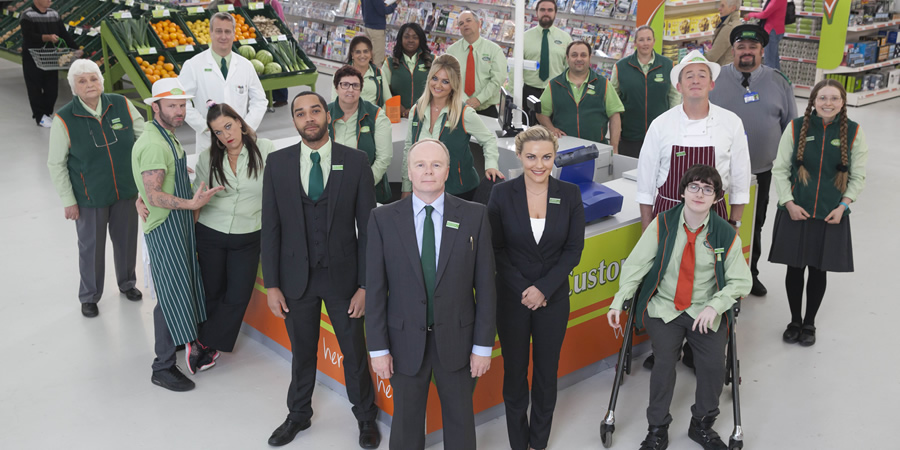 Sky 1 has ordered a sixth series of supermarket comedy Trollied.
The new series, comprising of eight episodes, will see Jason Watkins return as the store's manager, Gavin.
Chanel Cresswell, who plays Katie; store rival Sarah Parish (Cheryl); Stephen Tompkinson (pharmacist Brian); and Rita May (Margaret) are amongst the other cast members confirmed to be returning to the sitcom.
Meanwhile Rufus Hound is joining the show as food rep Duncan, and Georgia May Foote (Katy from Coronation Street) has been signed up as shop assistant Holly.
The producers say: "Trollied immediately established itself as a favourite on its debut in 2011, claiming the accolade of the biggest UK comedy launch in pay multichannel history and becoming Sky 1's most successful half hour comedy. The sixth series of Trollied will see the total number of episodes produced reach 61."
Producer Alex Smith comments: "It's great to have Trollied back on screens to further delve into the lives of the Valco team as they suffer an intolerable new food rep Duncan Trench (Rufus Hound), who Gavin makes an enemy of with his new War on Sugar. Also joining the fantastic cast is Georgia May Foote, whose unstable character Holly forms the third part of an enticing love triangle."
Ash Atalla, from production company Roughcut TV, says: "Trollied is a show we're hugely proud of at Roughcut TV. It's one of Britain's longest running sitcoms, which continues to be warmly embraced by Sky viewers. We're thrilled to reassemble our talented and now BAFTA-winning cast for another series."
Jon Mountague, Head of Comedy for Sky, adds: "The staff of Valco supermarket are back bringing retail therapy and laughter to Sky 1 in what could be the best series yet. The popularity of our long running comedy is testament to its quality and production. There are some terrific additions to the cast as well as our old favourites - including two BAFTA winners."
Series 6 of Trollied will be shown on Sky 1 in late 2016. A complete Series 1 - 5 box set is now available to order.
Share this page