Upstart Crow Series 2
Upstart Crow to return for second series
BBC Two sitcom Upstart Crow will return for a second series and Christmas special in 2017
Following the success of Series 1, the BBC have said it would be "madness" not to bring the show back
Series 2 will involve storylines such as Marlowe taking a spy trip to meet Two Gentlemen In Verona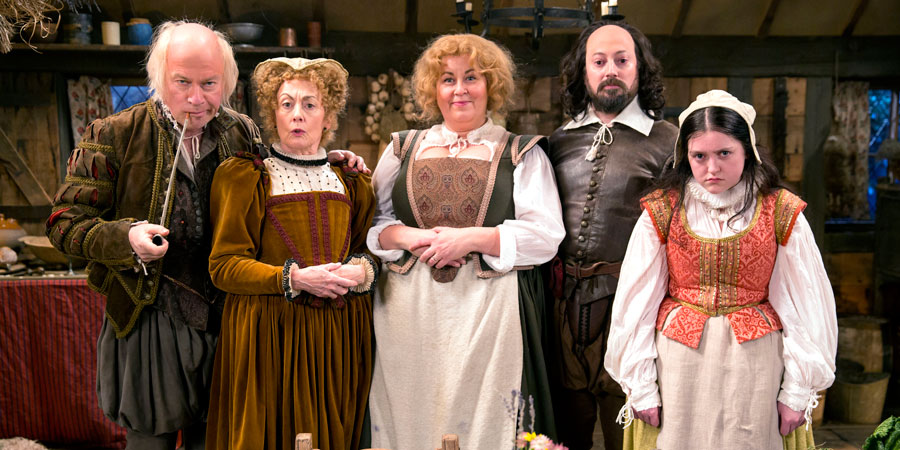 The BBC has ordered a second series of Upstart Crow, and a Christmas special.
The BBC Two show is a studio sitcom based on the early life of William Shakesepeare. It was created by Ben Elton, the co-writer of Blackadder from Series 2 onwards, to mark the 400th anniversary of the playwright's death, and stars David Mitchell as the young Bard.
The six-part first series concluded this evening on the channel, with an episode that included a cameo appearance of Blackadder character Kate, or 'Bob'. Launching with 1.29 million viewers on Monday 9th May, consolidated statistics for the series - which include iPlayer views - indicates over 2 million people have watched each episode.
BBC commissioner Shane Allen says: "What with the brilliant response to Ben's re-imagination of Will Shakespeare's world and the uniquely entertaining cast, it would be madness not to bring Upstart Crow back for a second series."
Ben Elton comments: "Making a sitcom for the BBC is the holy grail of British comedy writing. I am absolutely thrilled that Upstart Crow has earned a second series and am sorry for some of the things I thought about the Bard while studying for my English Lit O Level."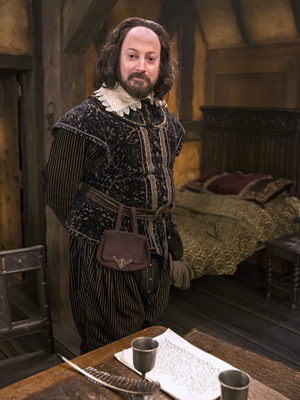 David Mitchell adds: "I'm thrilled that we'll be making a second series of Upstart Crow, but sad that my favourite part of the creative process - the quote for the press release - is now over."
Alongside Mitchell in the titular role of 'Upstart Crow' - a label applied to Shakespeare by rival and critic Robert Greene in 1592 - the series also stars Harry Enfield and Paula Wilcox as his parents; Liza Tarbuck as his wife, Anne; and Helen Monks as teenage daughter Susanna, all still living in Stratford-upon-Avon.
In London, Will is accompanied by servant Bottom (Rob Rouse) and Kate (Gemma Whelan), who longs to act - in an age in which women are banned from appearing on stage. Contemporaries and colleagues Burbage, Condell and Kempe are played by Steve Speirs, Dominic Coleman and Spencer Jones, respectively; the latter in a character and performance spoofing Ricky Gervais and his apparent snobbishness toward popular entertainment today.
Tim Downie plays fellow playwright Marlowe, whilst Mark Heap is nemesis Sir Robert Greene.
All the cast are expected to return for the second series, which will be filmed later this year and is currently intended to broadcast from March 2017.
The BBC says: "Series 2 is set to continue in this vein as Ben draws inspiration from characters like Othello and Falstaff, and plays like Henry V and The Taming Of The Shrew. Marlowe takes a spy trip to meet Two Gentlemen In Verona, and Will and Anne's lodger turns out to be a Jesuit assassin with his sights set on the Queen."
Made by BBC Studios, Upstart Crow remains one of only a handful of studio sitcoms currently in production for the BBC, despite the format continuing to attract the highest ratings across television comedy. Still Open All Hours, Not Going Out, Citizen Khan and a single Mrs. Brown's Boys special are the only other studio sitcoms currently due to return, all achieving multi-million ratings and high audience appeal. Meanwhile, repeats of original 1970s Dad's Army episodes continue to perform strongly, attracting millions to BBC Two each Saturday evening.
Share this page