Channel 4 orders Damned series
Channel 4 to film Jo Brand and Alan Davies sitcom Damned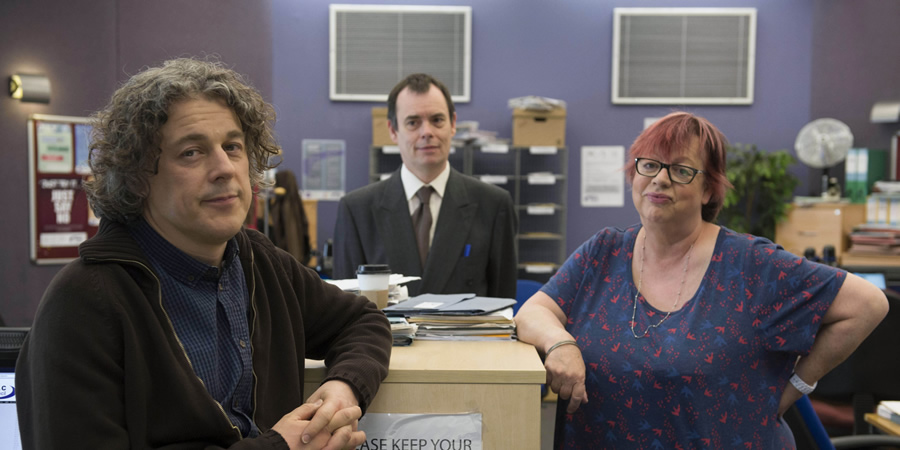 Channel 4 has announced that it has ordered a full series of Damned, a sitcom starring Jo Brand and Alan Davies as social workers.
Damned, which is written by Jo Brand, Morwenna Banks and Will Smith, first started life as a pilot on Sky Arts. The episode was screened in June 2014 but did not progress beyond that point with Sky. However, Channel 4 has now picked up the show, ordering six episodes.
The sitcom is based around the lives of two "rather jaded social workers". Channel 4 describes it as "sharply written, warmly comical and frequently poignant observation on what it means to try your best amidst the most frustrating of circumstances".
Jo Brand plays Rose, whilst Alan Davies is Al. Together they work in a children's services department, dealing every day "with the all too familiar social issues that flood the media".
Channel 4 explains: "Swimming against a tide of bureaucracy and pedantry, and contending with the absurdities and irrationalities of life in a county council office, Damned follows Al and Rose as they navigate their way through their equally trying professional and personal lives."
The series will also star Kevin Eldon, Georgie Glen and Aisling Bea, all of whom also appeared in the pilot, alongside Morwenna Banks, Himesh Patel and Marjorie Yates.
Jo Brand says: "As the daughter of a social worker, who worked for many years in child protection, I grew up seeing social workers go unrecognised for the good things they did and castigated for the bad. It's like being a traffic warden without the perks. Damned is an attempt to portray the tragic-comic lives of social workers, always under pressure, always in possession of a grim sense of humour and always wrong in the eyes of the public."
Nerys Evans from Channel 4] adds: "We are thrilled to be working with Jo, Morwenna and Will on this brilliant bittersweet series. The series highlights some of the challenges and dilemmas facing front line social workers in this time of austerity. The characters are warm, honest and human and often have their own set of challenges outside of the office as well."
Producer Claire Whalley comments: "It is really exciting to be working with such brilliant writers who have the ability to bring humour to some of life's most difficult and challenging subjects and to create a fresh, new comedy which comes out of the real world".
Filming begins on the six new episodes of Damned in June, with the series set to be shown on Channel 4 later this year.
Below is the trailer for the pilot:
Share this page