Rising Damp Forever
ITV3 to air Rising Damp Forever
ITV3 will be broadcasting Rising Damp episodes back-to-back across the Easter weekend
It will also screen Rising Damp Forever, a new 'definitive' two-part documentary
Martin Clunes narrates the documentary, which includes an interview with creator Eric Chappell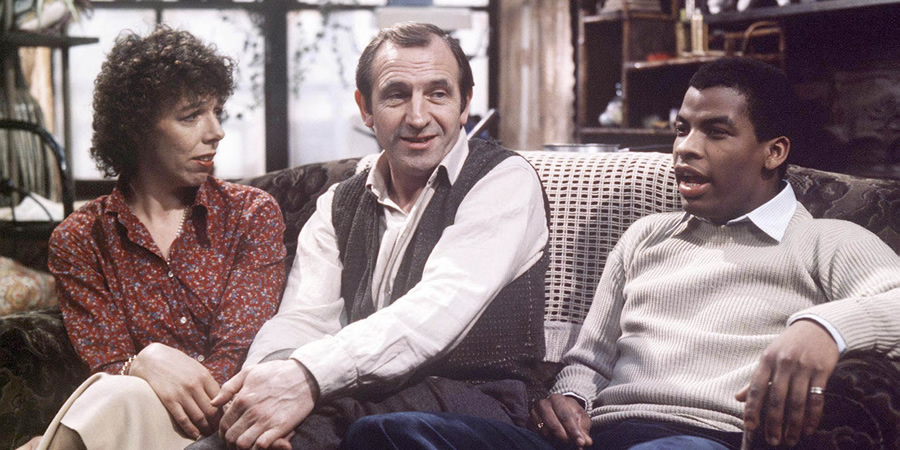 ITV3 has announced that it will be celebrating Rising Damp, "one of ITV's greatest ever sitcoms", over the Easter weekend.
The channel will be dedicating its entire schedule to the iconic comedy, broadcasting all four series of the show, the big screen feature film, and a new documentary series.
The network confirmed today that it will be airing the new "definitive behind-the-scenes guide to the show" as part of the weekend. The two-part series, titled Rising Damp Forever, will feature interviews, unknown facts, reunions and location visits from the cast and crew.
The documentary - narrated by Martin Clunes - will also feature an interview with the show's creator, Eric Chappell.
Rising Damp ran on ITV between 1974 and [y]1978[/z], starring Leonard Rossiter, Frances de la Tour, Don Warrington and Richard Beckinsale.
ITV says: "Did you know Richard Beckinsale wore a wig during filming as he had a prison crew cut for Porridge filming at the time?" and "Did you know a disco-inspired single was released into the music charts off the back of the TV show?"
This will be ITV3's second formal 'comedy takeover' weekend. Last Easter it aired the well-received documentary series Carry On Forever and screened many of the best-loved films from the series. That documentary was also narrated by Clunes.
Mark Robinson from production company Shiver says: "Just like our previous ITV3 celebration Carry On Forever, Rising Damp Forever should be a real treat for fans of the classic comedy. As well as revealing interviews with cast and crew which explain the on-screen chemistry and production process behind Rising Damp - we've gone back to the locations where the comedy magic happened - from the stage to the TV studio to the film locations.
"There are also emotional reunions for those who worked on the show, with some meeting for the first time in nearly 40 years. We feel really privileged to be telling the definitive story of this classic sitcom for the first time."
ITV3's Satmohan Panesar confirms: "ITV3 is the destination channel this Easter if you're a fan of Rising Damp or classic British comedy. Over the Easter weekend ITV3 will be airing all the original TV series back to back, a brand new two part documentary and the big screen movie spin off."
ITV3's Rising Damp Forever weekend will be broadcast over the 26th and 27th of March.
Share this page