Are You Being Served? 2016
Are You Being Served? to return to screens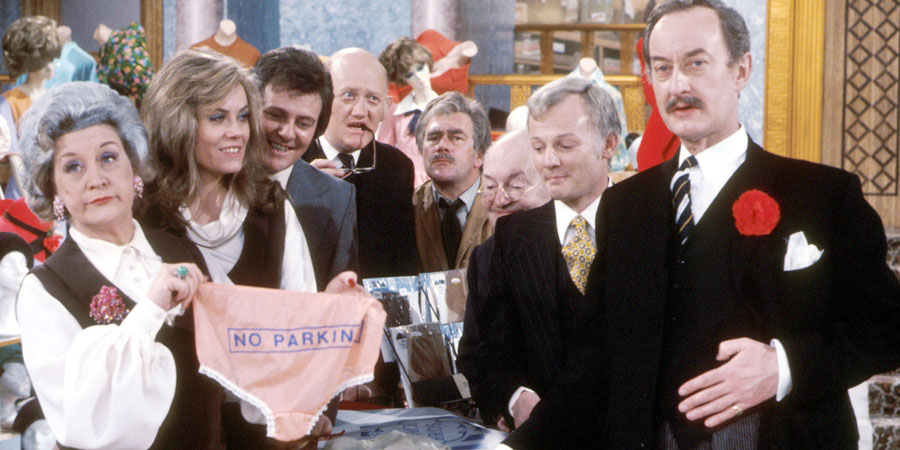 The legendary BBC sitcom Are You Being Served? will return to screens later this year.
A brand new episode will be recorded next month, which will "pick up where Jeremy Lloyd and David Croft's much loved comedy left off".
The hit sitcom was created and written by Jeremy Lloyd and David Croft based on Lloyd's experiences working in a department store. Originally a star vehicle for Trevor Bannister as Mr. Lucas, it would cement the star status of its ensemble cast and create a range of iconic comedy characters: Mollie Sugden as Mrs. Slocombe; John Inman as Mr. Humphries; Wendy Richard as Miss Brahms; Frank Thornton as Captain Peacock; and Nicholas Smith as Mr. Rumbold.
The new episode - a one-off special, but which could become a pilot for a new series if it is popular with audiences - is expected to be broadcast this Summer, as part of BBC One's Landmark Sitcom Season.
Producers explain: "The show will bring Grace Brothers and some of the nation's all-time favourite sitcom characters including Mrs Slocombe, Captain Peacock, Miss Brahms, and Mr Humphries back to life with an all star cast."
Are You Being Served? nearly never made it to air at all. The original pilot episode, produced for the famed Comedy Playhouse strand, was viewed by BBC executives as too low-rent for the corporation. It was only broadcast when a terrorist massacre at the 1972 Olympic Games suddenly left hours of air time to fill.
The show became a huge hit both in Britain and abroad, running for a further 68 episodes over 10 series, ending in 1985. A feature-film adventure for the cast was produced in 1977, and such was the enduring popularity of the characters that a sequel sitcom, Grace & Favour, ran for two series from 1992. The sequel will be making a long-awaited UK DVD debut in May.
Neither the creators nor many of the original Are You Being Served? cast are still alive. Its revival comes in the wake of huge success for Still Open All Hours, the modern sequel to another 1970s-80s BBC sitcom hit, Open All Hours.
British Comedy Guide understands that the new Are You Being Served? script has been penned by Benidorm writer Derren Litten.
BBC One's Landmark Sitcom Season is expected to be broadcast in early July, marking 50 years since the genre-defining comedy Hancock's Half Hour moved from radio to television, on Friday 6th July 1956.
As previously reported, a number of sitcoms are under consideration for sequels or revivals. Alongside Are You Being Served? are titles including Porridge and Keeping Up Appearances.
The new Are You Being Served? episode will be recorded in Salford on Saturday 5th March. Free tickets are now available.
Share this page