Camping
Julia Davis creates new comedy series Robin's Test
Robin's Test focuses on 3 couples on a camping trip to Dorset
Julia Davis, Rufus Jones, Vicki Pepperdine, Steve Pemberton, Elizabeth Berrington, Jonathan Cake and David Bamber star
The six-part series will be on Sky Atlantic early in 2016
This sitcom was re-named
Camping
, and broadcast in April 2016.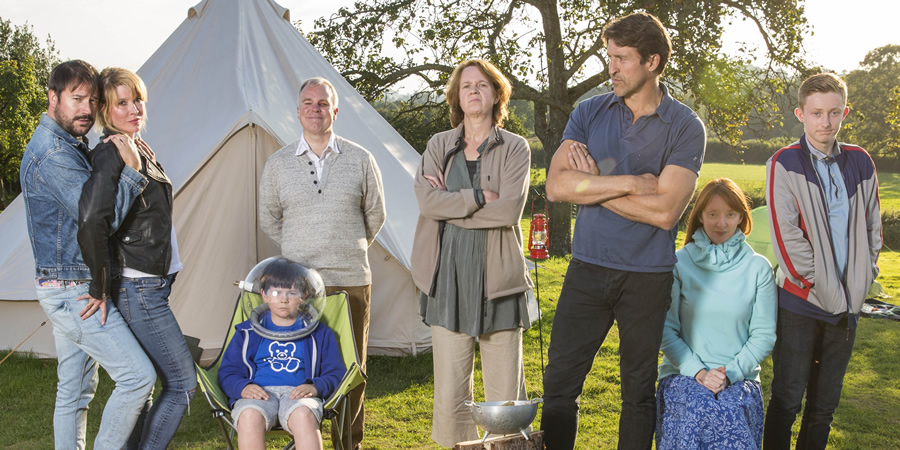 Julia Davis has created a new comedy series for Sky Atlantic.
Robin's Test focuses on three couples on a birthday camping trip to Dorset. The carefully planned weekend quickly unravels once party girl Fay arrives with the newly separated Tom, and the holiday takes on a whole new direction.
This new show cements the production relationship Davis has with Sky Atlantic. The channel is currently airing two special episodes of Hunderby, her dark comedy about the goings on in a village in the 1880s.
Robin's Test will star Julia Davis as Fay, with her fellow Hunderby actor Rufus Jones as Tom. The other two couples will be played by Vicki Pepperdine, Steve Pemberton, Elizabeth Berrington and Jonathan Cake, with David Bamber as the campsite owner who keeps a 'curiously watchful eye' on the party.
The six-part series has been filmed by Baby Cow Productions, with whom Davis has worked on previous series such as Human Remains, Nighty Night and Hunderby. Ted Dowd - the producer behind shows such as Gavin & Stacey and Nighty Night - has overseen production, with filming taking place in Devon in October. Davis has directed the show herself, the first time she has taken on such a role aside from her Little Crackers short in 2010.
Julia Davis says: "I am very, very excited to making another series for Sky Atlantic thanks to the great creative freedom and support of Zai Bennett and Lucy Lumsden."
Sky Atlantic Director Zai Bennett comments: "Known for grown-up storytelling and working with the best in the industry, Sky Atlantic is the perfect home for Julia Davis's sublime work. Alongside drama Sky Atlantic is investing in top flight, cinematic quality comedy and Julia's new series is a great way to start the next year."
Robin's Test will be shown on Sky Atlantic early in 2016.
Share this page