Michael McIntyre to host another BBC Christmas special
Michael McIntyre to host another BBC Christmas special
---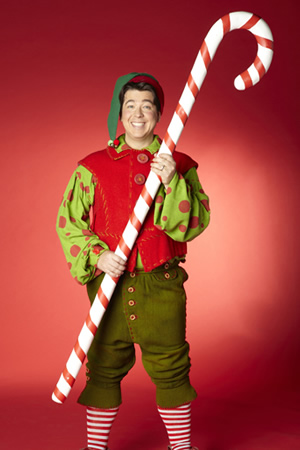 Michael McIntyre will be back on BBC One on Christmas Day this year with another festive stand-up and music special.
Michael McIntyre's Big Christmas Show will follow the same format as the April special Michael McIntyre's Easter Night At The Coliseum.
A 2014 special, Michael McIntyre's Very Christmassy Christmas Show, which was broadcast on Christmas Day between 10:40pm and 11:40pm, was watched by 4.7 million viewers; a 27% share of the TV audience.
The new special will be recorded in front of a live audience at the historic Theatre Royal Drury Lane.
The BBC confirms: "In this Christmas Day special for BBC One, Michael presents the world's leading comedians and music superstars, as well as his own unique talent, for a night packed with festive treats and surprises.
"Expect the unexpected as Michael provides his own inimitable take on Christmas with a little help from an unsuspecting audience and some star guests. It's a night at the theatre you won't want to miss!"
Michael McIntyre says: "It's such an honour to be hosting Michael McIntyre's Big Christmas Show on BBC One this Christmas Day. With big stars and big laughs at London's beautiful Theatre Royal, it promises to be a night you won't forget, although given the level of merriment of some of the viewers at the end of Christmas Day, not all of you will remember it. I know my mother-in-law won't!"
Commissioner Alan Tyler adds: "I'm delighted that Michael is back on the BBC this Christmas. He is one of the country's best-loved comedians, and I'm really looking forward to seeing how he plans to celebrate the festive season with the UK!"
Dan Baldwin from production company Hungry McBear Media comments: "It's always a privilege working with Michael and we are looking forward to building on the success of our Easter special with another fantastic show for BBC One on Christmas Day. This is an entertainment spectacle with the country's biggest and best comedian at the heart of all the festive fun."
McIntyre won't be the only comedian fronting a BBC special this festive season. John Bishop's Christmas Show will return for a third year, with the programme due to be recorded at the Lyceum Theatre on Monday 30th November.
Share this page