More Boomers for BBC One
More Boomers for BBC One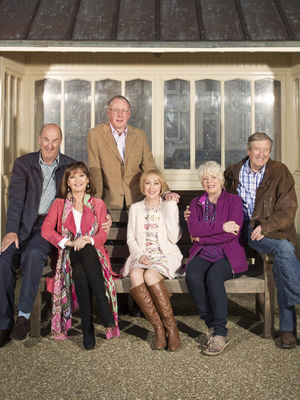 Boomers is returning to BBC One, producers have formally confirmed today.
With an all-star cast lead by Russ Abbot, Stephanie Beacham, Philip Jackson, James Smith, Alison Steadman, Paula Wilcox and June Whitfield, the sitcom will be back on screens with a Christmas special.
A full six-part series has also just completed filming, and is due for transmission early in 2016, likely from February.
Boomers follows the ups and downs of three retirement-age couples living in Thurnemouth, "Norfolk's only west-facing resort".
In Series 2, Alan still wants to slow down whilst wife Joyce wants to speed up. John and Maureen are enjoying life, adventurous in every aspect including the bedroom. For them 60 is the new 40. And finally there's Trevor and Carol who are coming to the end of a period of sexual lent.
Producers tease: "This series sees our three couples raising the stakes as they deal with some of the bigger problems life throws at you including the offer of sexual experimentation, drug abuse and camping trips..."
Guest stars appearing in the series include Geoff McGivern, Rhashan Stone, Isy Suttie, Simon Day, Lee Boardman and stand-up comedian Alun Cochrane.
Shane Allen, Controller, BBC Comedy Commissioning, says: "The new series pushes our merry band of retirees into evermore agonising and ridiculous situations whilst crackling with sharply observed dialogue. It's a privilege to see these well-loved and hugely accomplished performers in full flow with such richly comic material."
Producer Paul Schlesinger comments: "It's great to welcome back this particular group of friends and to see their jealousies, general resentment and disappointment with life come off the page even more vividly than for series one. All brought to life by a stellar comedy cast."
Further information and scheduling details will be revealed in the coming months.
Share this page