Inside No. 9 to return for Series 3
Inside No. 9 to return for Series 3
Update, 20th January 2016: Cast details announced
Update, 20th October: Reece Shearsmith has now confirmed this news, tweeting: "This is rumour control - here are the facts. We are indeed making a third series of Inside No 9. Steve and I have written the new series."
Update, 21th October: The BBC has now confirmed the news too, saying "The third series promises to raise the bar ever higher."

---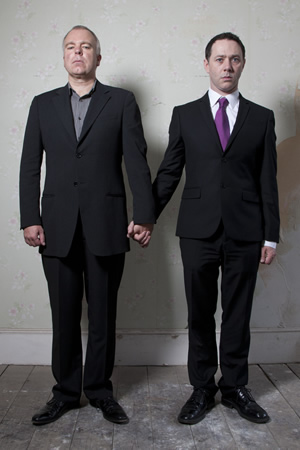 British Comedy Guide understands that BBC Two has given the go-ahead for a third series of Inside No. 9.
Reece Shearsmith and Steve Pemberton's dark anthology series delivers a unique setting, story and characters in each episode. The only linking item between each edition is that '9' is the number of the setting: be it a house, room, cubicle, compartment, or flat.
Running for two series to date on BBC Two, news of a Series 3 commission has yet to be confirmed by the corporation, but British Comedy Guide understands that writers and stars Shearsmith and Pemberton are already working on the new series.
Reece Shearsmith is currently starring in Hangmen, a play at The Royal Court Theatre in London. However, when the play transfers to Wyndham's Theatre in the West End in December, Shearsmith will reportedly be leaving the cast so he can work on Inside No. 9.
News of the show's return will not come as a surprise to many, as Series 2 - broadcast in March and April 2015 - was widely praised by both viewers and critics. The Radio Times called the show "utterly superb"; The Observer commented each episode was a "perfect little half-hour"; and The Times noted "although every single episode in this series is completely different, somehow Messrs Pemberton and Shearsmith manage to score one bullseye after another."
The 12 Days Of Christine - a tense, highly emotional drama in Series 2 guest starring Sheridan Smith - was particularly lauded by the press, with, for example, The Independent labelling the episode "one of the best pieces of television for years."
Inside No. 9 is expected to do well in the forthcoming TV awards season. Last month at the BBC Production Awards, Sir David Jason presented the show with an award for Programme of the Year. Executive Producer Jon Plowman said at the time: "It is thrilling to have made the programme of the year and to have been allowed to make a programme that is indefinable in terms of its genre."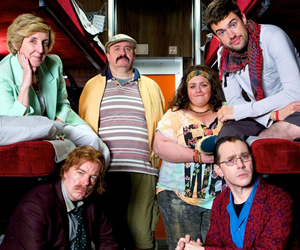 There are no details yet about what the new stories may be about, however speaking to British Comedy Guide in an interview earlier this year, Pemberton said: "You go into a new series of Inside No. 9 with literally everything to play for. We're not wedded to any characters, we're not worried about story arcs... Reece and I can sit down and go 'right, what are we going to do?'.
"We just write them one at a time; it's not like we map out all six at the beginning. We just settle on one idea, and then write it. Once you get into that rhythm the ideas will come. Sometimes you can go up a blind alley, but we've been very lucky in our relationship with [Executive Producer] Jon Plowman and [Producer] Adam Tandy at the BBC in that they've left us alone to write."
He added: "How the hell we'd top what we did in Series 2 and Series 1 I don't know, but I very much hope we'd be given the opportunity to try."
Series 1 of Inside No. 9 is currently being repeated on Gold on Sunday nights. Meanwhile both series are available on DVD. Earlier this year Shearsmith & Pemberton recorded and uploaded to the internet bonus Series 2 episode commentaries
---
21st October update: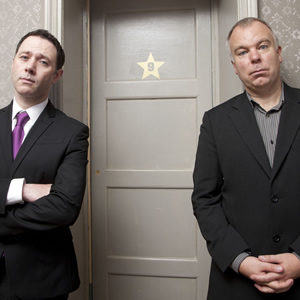 The BBC, talking about Series 3, says: "The anthology format continues as before, each film being set in a different location, the style and tone changing each week, combining a different mix of horror, thriller, drama and comedy, always aiming to surprise, delight, unnerve and amuse in equal measure. With ambitious production values and screenplays that tell original stories in ways which most sitcom and drama series do not attempt, the third series will continue to celebrate the craft of the stand-alone comedy drama."
Steve Pemberton and Reece Shearsmith themselves comment: "We are thrilled to have the chance to explore six more number 9's. Every story is a labour of love, so we will do our best to ensure the viewers are once again moved to tears of laughter and terror. (If you can get tears of terror.)"
BBC Comedy's Shane Allen adds: "Reece and Steve's grasp of story-telling and comic inventiveness slices the top of your head off. This return will continue to enthral and surprise audiences with some ideas that may even make you want to sleep with the light on."
BBC Two boss Kim Shillinglaw comments: "BBC Two should be the place where creatives can do their best, most signature work and I'm delighted that Steve and Reece are returning with another series of Inside No. 9; their deliciously dark, grown up humour is just what I want to see on the channel."
Share this page