Harry Hill begins filming another Professor Branestawm
Harry Hill begins filming another Professor Branestawm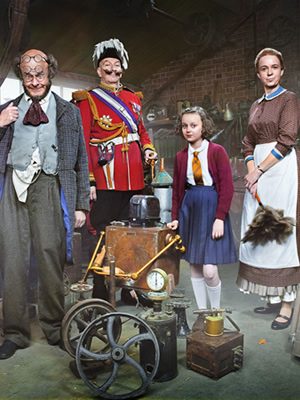 Filming is under way on The Further Adventures Of Professor Branestawm, a second episode of the show in which Harry Hill plays the famous character.
The new episode follows on from The Incredible Adventures Of Professor Branestawm. The family-friendly TV special, which was shown at Christmas, was seen by 3.6 million viewers.
The BBC confirms: "The original mad professor is back as Harry Hill reprises his role as the title lead in the BBC One show The Further Adventures Of Professor Branestawm as filming begins this week.
"Set in the quintessential English village of Great Pagwell, the hour-long special sees Branestawm face money troubles when his bills are literally out of control.
"In order to try and pay off his debts, Connie suggests he enter the town's best inventing competition to win a cash prize of £1,854 and a thruppeny bit - enough money to pay off his tax bill. But can he out-invent the self-professed greatest inventor in the world, Professor Algebrain?"
Returning to the show alongside Hill are Vicki Pepperdine as Mrs Flittersnoop, Simon Day as Colonel Dedshott, Charlie Higson as the Mayor, David Mitchell as councilor Harold Haggerstone, Sophie Thompson as Connie's mum Aggie, Adrian Scarborough as The Vicar, and Madeline Holliday as young Connie.
The new special will also feature guest roles from Steve Pemberton as Professor Algebrain, Dame Diana Rigg as Lady Pagwell and Bob Mortimer as Professor Awfulshirt.
Harry Hill says: "I'm thrilled to be back playing the original nutty professor, and this time he's even nuttier than last time."
Charlie Higson, who has written the new script, says: "It's very exciting to be making another Branestawn film. It's great to get the cast back together and have fun in this crazy world."
The Further Adventures Of Professor Branestawm will be shown on BBC One this Christmas.
Share this page