Taskmaster to return for two new series
Taskmaster to return for two new series
---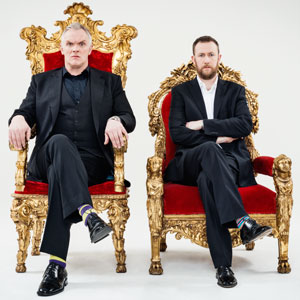 Dave has commissioned two further series of hit comedy format Taskmaster.
Starring Greg Davies as the eponymous Taskmaster and Alex Horne as his assistant, the show sees a group of comedians undergo a range of bizarre tasks in pursuit of points.
Series 2 and Series 3 will each consist of five 60-minute episodes, to be broadcast in 2016.
The first series, broadcast between July and September 2015 featured comics Romesh Ranganathan, Frank Skinner, Roisin Conaty, Josh Widdicombe and Tim Key competing each week.
Their challenges included eating as much watermelon as possible in one minute; preparing a meal using one ingredient starting with each letter of the alphabet; completing a 5-hole mini golf course - using eggs as balls - with the least number of eggs in the shortest amount of time and least number of shots; separating blue Smarties whilst wearing boxing gloves; making a large block of ice disappear as quickly as possible; and painting a picture of a horse whilst riding a horse.
Created, written and produced by Alex Horne, the series was eventually won by Josh Widdicombe, who went as far as getting Greg's name tattooed on his foot to secure his victory.
Production company Avalon Television says of the new series: "Greg Davies sets a series of stupefying tasks to a brand-new group of comedians with Alex Horne assisting as his right-hand-man coaxing the comedians to show their creativity, conniving and competitiveness.
"Once again, rivalry will be encouraged, dodgy tactics rewarded and pitiful attempts scoffed at in the most dogged, hard-fought and ridiculous comedy show on TV."
Taskmaster started out as a critically acclaimed live show, also devised by Alex Horne, which ran at the Edinburgh Festival Fringe in 2010 and 2011, with the six-episode first series gaining praise from audiences and critics.
Speaking today, Alex Horne said: "This news is both exciting and appropriate; the Taskmaster still has many tasks he needs completing - almost all of which are either far-fetched or still unconcocted - and who better to attempt such challenges than a fresh bunch of ill-equipped and unhealthily competitive comedians."
Hilary Rosen, Deputy Director of Commissioning at Dave owner UKTV, said: "Taskmaster has taken the panel show to the next level, it's an outstanding new comedy format and delivers the perfect balance of silliness and intelligence. I'm delighted to continue our working relationship with Alex Horne and Avalon. We look forward to unveiling our new cast of comedians and a fresh line-up of outrageous tasks."
In the following video clip, the comedians are tasked with moving a (fake) boulder.
Share this page