Jack Whitehall's Backchat to return
Jack Whitehall's Backchat to return
---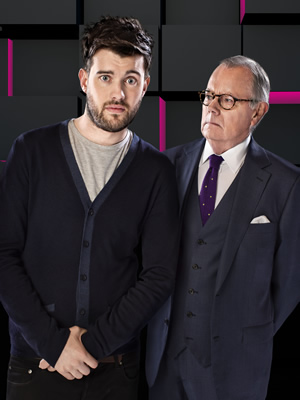 Comedy chat show Backchat is to return for a third series.
Hosted by stand-up comedian, writer and actor Jack Whitehall, the format sees him accompanied by his father, Michael, a former theatrical agent.
Each episode sees Jack attempting to interview a number of celebrity guests whilst being embarrassed by his father's regular interjections.
The programme began life as a stage show, performed at the Edinburgh Festival Fringe. At the time of the first series' commission in 2013, Jack quipped: "As hosts go, me and my dad are a bit like Ant and Dec - if Ant was 40 years older and kept telling Dec he was a disappointment to him and should never have dropped out of university."
Series 1 consisted of five episodes and a highlights special, broadcast between November 2013 and January the following year. World Cup and Father's Day specials followed in Summer 2014, with a second series - again consisting of five episodes and one highlights programme - broadcast in January and February 2015.
Jack Whitehall, promoting his Bad Education Movie last month, joked to British Comedy Guide that he was facing "Just unemployment, really. Off into the future - that's all I can see, a big open space in my diary!"
However, Michael Whitehall tweeted this afternoon: "Worry not, Backchat will be back before the end of the year, with a breathtaking line-up of guests, many of whom I might even have heard of."
The future of the series had been in doubt as BBC Three, where it had originally found a home, faces closure and being turned into a significantly reduced online-only programming brand. If plans proposed by the BBC are given final permission by the BBC Trust later this year, the channel looks set to close in the first quarter of 2016.
Previous episodes of Backchat have also enjoyed repeats on BBC Two, but it seems likely that Series 3 would return initially to BBC Three.
A formal announcement from the BBC and production company Tiger Aspect is expected to be made in the coming weeks.
Share this page