New Al Murray Pub Landlord sitcom in development
New Al Murray Pub Landlord sitcom in development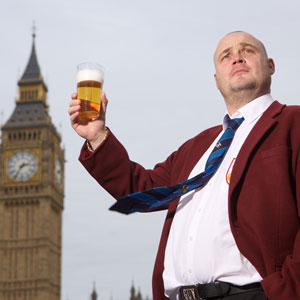 Al Murray, the popular comedian best known for his Pub Landlord character, could star in a new sitcom.
The currently in-development project would see Murray star as the Guv'nor - an un-named character - as he is elected to Parliament and becomes the sole FUKP MP, holding power in a hung House of Commons and coming into frequent conflict with the SNP.
A pilot script written by James Cary and Richard Hurst, whose BBC Three comedy Bluestone 42 came to a close this year after three series, is currently being pitched to broadcasters, British Comedy Guide understands.
The sitcom's premise was inspired by Murray's real-life attempt to become MP for the Kent parliamentary seat of South Thanet in May's General Election, where he stood against candidates including UKIP leader Nigel Farage.
Standing for election under the FUKP - Free United Kingdom Party - banner, the Pub Landlord promised a range of policies, including that "the pound will be revalued at £1.10, so it will now be worth 10p more," and "Alex Salmond to be made First Minister for Norwich, so he can get to understand what being ignored by the rest of the country is really like".
Richard Allen-Turner, joint Managing Director of Avalon, the talent agency that represents Murray, described the Pub Landlord's election campaign against Farage as "an amazing piece of satire". "By putting a fictional character in a political scenario, the people involved didn't know how to handle it."
He told The Independent, "By putting a fictional character in a political scenario, the people involved didn't know how to handle it."
This would not be the first sitcom outing for The Pub Landlord. From 2000 to 2002 he starred in his own Sky1 series, Time Gentlemen Please, written by Richard Herring with contributions from Murray.
Also featuring Phil Daniels, Emma Pierson, Rebecca Front and Julia Sawalha, amongst others, the series saw the Guv'nor running a grotty London pub, and forever aspiring to make enough takings to have his brewery install a carvery in the establishment.
The Pub Landlord's other TV shows include Fact Hunt, Compete For The Meat, Al Murray's Happy Hour, and two An Audience With... specials for ITV.
Additionally, a one-off 90 minute documentary, The Pub Landlord v Nigel Farage: The Battle For South Thanet, was broadcast as polls closed on Election Day in May.
The following video is a clip from Time Gentlemen Please.
Share this page